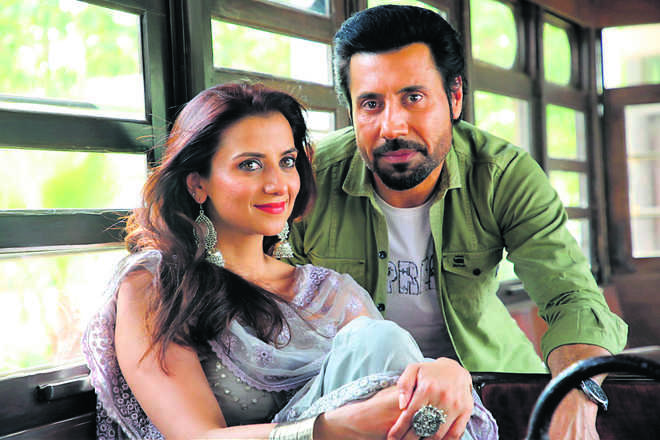 Gurnaaz Kaur
One can easily guess the plot from its very title. Naukar Vahuti Da when translated means wife's servant. There's been a similar titled film in Hindi and the story, which revolves around a married couple going through a rough patch, is also nothing new. The only novel bit in this Punjabi flick is the fresh pairing of Binnu Dhillon and Kulraj Randhawa. Her last Punjabi outing was Nidhi Singh. Seeing her back on the 70mm is refreshing.
It's a movie about Shivinder (Binnu Dhillon), his wife Neetu (Kulraj Randhawa) and their daughter. Shivinder aspires to be a songwriter and is busy trying his luck with Punjabi videos. He neither has time nor money for his family. Neetu, fed up of him, decides to live with her parents and takes their daughter with her. Shivinder, who cannot live without his family, especially his daughter, disguises as an aged driver Satnam and gets employed by Neetu's father. Does it seem familiar? Kamal Hassan's Chachi 420 is the clue. In this one, just like in Chachi 420 where the head of the family falls in love with the nanny, Neetu's bua falls for the driver. Yes, the movie seems somewhat a copy, but Binnu Dhillon deserves the thumbs-up for his act as an old man. He not only looks natural but in some scenes outperforms his role as Shivinder.
This otherwise done-to-death story gets life here and there with its regular doses of gags, punches and situational comedy. This plus point is also a minus of the film as the comedy often becomes an overdose and forced.
Gurpreet Ghuggi's role as Bhola is out-and-out hilarious. Upasana Singh has also done a decent performance, but on occasions she is seen overacting. The other actors, including Jaswinder Bhalla, play their parts well. But the kid, who plays Mannat—Shivinder and Neetu's daughter—wins your heart. She is natural, talented and naughty, and her dialogue delivery is a hit. Her scenes with Kulraj and Binnu are endearing. As parents, the lead couple has beautifully portrayed love and care. Their onscreen chemistry, the arguments, love-hate relationship is relatable too.
Unfortunately, other than the title song, the music of Naukar Vahuti Da lacks appeal. In fact, the song which is picturised to show that Shivinder and his friend Bhola finally get a break is the worst. It may feature Dev Kharaud but has no relevance whatsoever.
The second half is dragged and loses the little interest one built over time. Watch it if you are a Binnu-Dhillon fan or you want to have a laugh about something regular and mundane.
gurnaaz@tribunemail.com
Top Stories