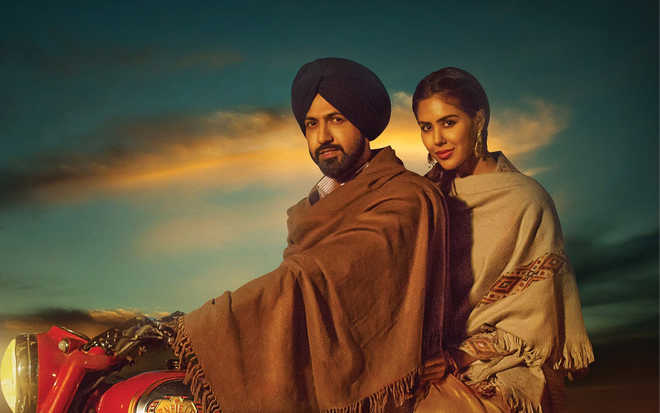 Jasmine Singh
It's one big marriage, and you get an invitation to collect manje bistre, just go ahead and be a part of it. Set up in the backdrop of traditional Punjabi wedding, this week's release Manje Bistre is a fun ride from the word go.
Directed by Baljit Singh Deo, written by Gippy Grewal, the film has a battery of best of the best Punjabi actors, including Gippy Grewal, Sonam Bajwa, Rana Ranbir, Karamjit Anmol, Jaggi Singh, Harby Sangha, Sardar Sohi, BN Sharma, Anita Devgan, Hobby Dhaliwal and Gurpreet Ghuggi. Dilpreet Dhillon makes a special appearance.
Highlighting and enjoying traditions is the bottomline of the film, Manje Bistre. But if you are looking for an out of the world storyline, something exceptionally different, Manje Bistre will only offer simplicity, well, traditions are simple, aren't they?
Director Baljit Singh Deo has done a neat direction, making sure that every character in the film gets a decent screen space.
The dialogues of the film are written by Rana Ranbir and he certainly has done a fine job. The entire film is centred at one place, a wedding house, despite the fact that there aren't many locations to feast your eyes on; a beautiful and well shot cinematography makes everything look bright and fun.
The chaste Punjabi dialogues and the old marriage customs strike a perfect chord. The film is neither too fast, nor too slow; it flows with not even a single dull moment. As far as the artistes in the film are concerned, actor-comedian-singer Karamjit Anmol is a real show stealer. He fits in his role completely. Gippy plays the main lead in the film, doing justice to his role. He brings in light and fun moments. Here, one would take a pause to talk about the designer of the film, Ravneet Kaur Grewal, who has done an excellent job of creating costumes that look straight out of an old village wedding.
Pretty Sonam Bajwa plays the coy girl, who looks pretty and talks less. The film Manje Bistre is not about one actor and one pretty actress anyway, it is about characters who come together to make this wedding a joyride. Gurpreet Ghuggi in his short and sweet role nails it completely.
The film has foot-tapping numbers, subtle romance, lot of fun moments, loads of laughter; Manje Bistre has sure collected the right entertainment dose.