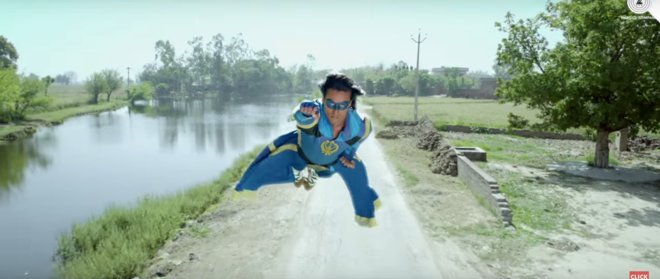 Nonika Singh
Batman, Spiderman, Wolverine... one could go on forever. Hollywood has given us supermen of varying sizes, shapes and powers. So, what can their chaddi buddy (the makers' words, not ours) Flying Jatt bring on the table of super heroes?
Of course, an Indian core with a maa jo sab jaanti hai and an equally enthusiastic janta janradhan who can do little except keep its mouth agape with wonder. But are we wonderstruck? Not with the visual spectacle. Remo D'Souza knows his limitations and doesn't try to overreach in this department at least. Where he scores is by placing our hero and the story in the spiritual field. And who better than the warrior race of Sikhs for the choice of a superhero. A sacred tree, the ethos of Sikhism and a whole lot of flight of fancy complete the picture.
Hero derives his power from a sacred symbol and antihero from waste. Unpalatable...but then who expects reality in a superhero film? To be fair to Remo he gives some food for thought. Amidst the laughs and the action runs a chapter on ecology and environment. In between are thrown some facts about Sikh history, a few heartrending shabads too. The Sikh jokes that have led to much mirth and bad blood is dealt with firm and square as well, contextualised and put in place. The Sikh glory, in fact, is invoked at more than one place.
But hey, before you think A Flying Jatt is one long lesson or a sermon on the valour of Sikhs...surprise, surprise... it has some genuinely amusing moments in the first half. The irrepressible sardarni Amrita Singh as the dhaadi (stern and righteous) Bebe brings the house down with amusing antics and one-liners. The humour really works, especially when the superman's family, including a brother (Gaurav Pandey) set about deciding his look with half a dozen DVDs in their hands. Alas, the same can't be said of romance? Jacqueline Fernandez, the flying superhero's love interest, is so over ebullient that she ends up as a complete downer. On the upside, Tiger Shroff is the perfect choice for the part of Flying Jatt. His innocent earnestness as a young man suddenly infused with superhuman prowess is incredibly endearing. And there is no denying that he is the rightful heir to the title of action hero. Once again he is credible and fits the part that requires him to act less and fly more. With a body as elastic as his, it's not hard to digest that he can take on the baddies and be the saviour of humanity. All is hale and hearty until, his war with Raka (Nathan Jones) blows out of proportion. Australian strongman and retired professional wrestler Nathan's menace is confined to his hulk. Sniffing on smoke bellowing out of chimneys for his superhuman abilities are in direct proportion to the toxic waste, he keeps saying— surprise, surprise. But seriously there are no real surprises in store. In this superhero film that is refreshingly novel in the first half, post interval much follows the path treaded before. There are no cliff-hanger moments either. Still if Krish proved that India can make superhero films, A Flying Jatt follows suit and doesn't falter in creating yet another desi superhero. Where it does is where all Bollywood films do, an overdose of melodrama and naach gaana. Indeed, with choreographer-turned-director Remo at the helm how can the superhero not put on dancing shoes?
If only Remo had not dragged his feet in the second half and kept the fun tempo alive, pressed the delete button on few songs and gone a little easy on the preachy tenor, this would have been a joyous flight. Still it crash-lands into the watchable zone.