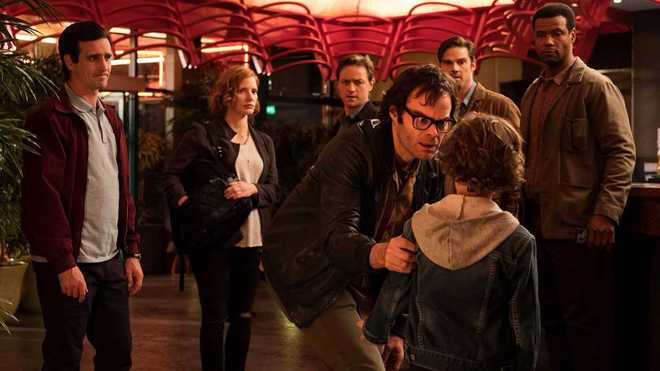 Johnson Thomas
Two years after the first It released so successfully in the theatres, the seven youngsters who successfully thwarted the diabolical Pennywise in Derry, Me, are forced to look back as 27-year-old adults having resurrected nightmares of their teenage trysts with the wheedling, psychological manipulator. There may be no reasoning for the 27 year hiatus but screenwriter Gary Dauberman and director Andy Muschietti embrace the accumulated dormancy as a done deal and march on with a 'repeat' manifesto of seen-before thrill set.
Chapter Two has little reason to exist other than to transport a mind-bending youthful past into an adult present. There may be a new set of kids for Pennywise the clown to abduct but it's still up to the old seven vanquishers to do a rerun on the annihilation. Towards the end of 'It' we had seen the seven teens making a pact with each other to band together again come what may, if Pennywise comes back. So, that's exactly what happens in Chapter Two, 27 years later. Bill (James McAvoy), Mike (Isaiah Mustafa), Richie (Bill Hader), Eddie (James Ransone), Beverly (Jessica Chastian), Stanley (Andy Bean), Ben (Jay Ryan) are conveniently brought together again, driven by a stereotypical set of contrived movie tropes. Derry gets back into the news, kids get abducted and some among the seven, who had forgotten about their pact, get pulled back to the pretty town by an intuitive, ill-omened feeling.
Pennywise (Bill Skarsgard) thrives on human viciousness as seen in his exploitation of a murderous homophobic attack during a carnival. His form mutates from clown to spider and many other but the impression of villainy left behind by Skarsgard's CGI-aided performance is rather impotent. The narrative liberties taken here can be forgiven given that no less than Stephen King himself consents to make his presence felt in a bit role as a proprietor of an antique store.
Stephen King's imaginative story telling had heft but Muschietti's current attempt to stretch it out without providing the dramatic highs and lows, makes the experience very feeble and exasperating. There are underlying themes here that given a sprightly, invigorating mix, would have been emphatic. Muschietti is unable to work up enough lather to make this experience a true blue horror ride. The attempt to connect individual back stories to the present day makes the going tedious. His preference for dragging out this tale in a 2-hour-49-minute movie, registers much more tedium along the way than any conveniently contrived fear/ horror mechanics could do. Even the creepy set pieces and demonic fortune cookies fail to bring this sequel out of its continuing whorl of increasingly fatiguing repetition. Chapter Two just feels like a poor, unsatisfying copy!