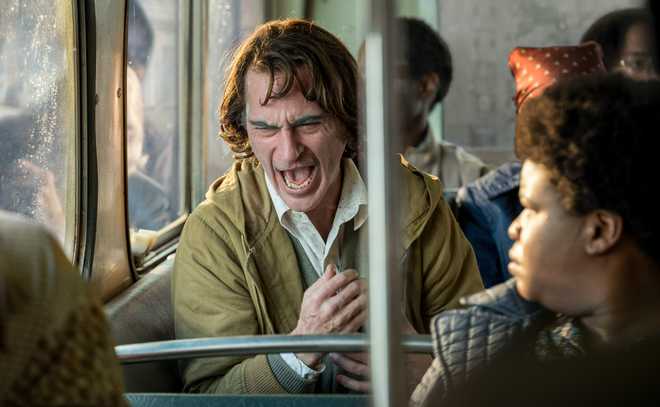 Johnson Thomas
Joaquin Phoenix's attempt to stamp his brilliance on Joker, the character that gained Jack Nicholson and Heath Ledger demigod status, proves effective but the same cannot be said about the film that personalises a fictional comic book villain as a victim of circumstance and mental illness. The mythological references may be there but this original story is basically about a class differentiated underdog struggling to find space in a society that treats him as an outcast.
The Joker, Batman's arch enemy, has appeared in several films. Most notably, Jack Nicholson did it in the 1989 film, Batman, Heath Ledger in the 2008 film, The Dark Knight, and Jared Leto in the 2016 film, Suicide Squad. But one can say, with all due respect to these brilliant actors, that Joaquin Phoenix has been the most impressive in this line-up of greats. That said, this film about the Joker though is beset with content related problems. There's not much balance in the elements chosen for this brand of fictional-biopic form of storytelling and the cold-hearted depiction of an already disturbed man's descent into hell steals us away from all attachment.
The film, co-written and directed by Todd Phillips, set in the early 1980s, Gotham City, has an obviously dystopian undercurrent. Turmoil is visible in the acts of criminality committed against the underprivileged and the disadvantaged. Arthur Fleck (Phoenix), already on the brink, swings all the way to the other side. Known as the man who laughs for no reason and referred to as Happy by his demented mother, the psychopath suddenly turns villain and obliterates all those who belittled him. Arthur getting sucked into a fight-back is understandable but his using that as a springboard for relentless, unpardonable murder, is not justifiable here. The allusion that mental illness can drive a man to murder is by no means an absolute.
The reprobate's rebellion as a construct becomes illusory because there isn't much of an opposing force providing for a strong enough impediment to that goal. Todd Phillips' Joker may veer away from the traditional comic book take of the villain's origins, thus providing for a less fantastical arc, but the script fails to develop strong enough conflict to make the payoff accessible. Production & sound design, period accoutrements, costumes, CGI, chilling minimalist score, ace camerawork add weight to the atmospherics here but this presentation is so coldly clinical that it's hard to develop any attachment. Even Robert De Niro as a funny quip-happy talk show host fails to ignite the slow moving narrative.
Phoenix plays his part as the increasingly unglued street clown and wannabe stand-up comic with ferocious relish - that's by far the biggest take away from a film that is technically smart but is sorely lacking in heart!