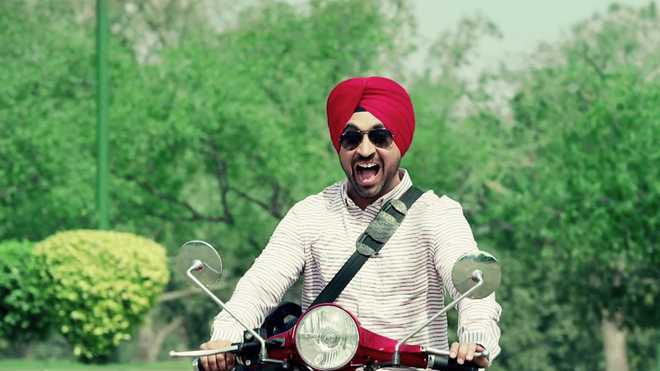 Jasmine Singh
Grace marks…we bet each one of us has had our share of experience with these words during school, college and university time. And in life, sometimes! It is these grace marks, which were either bestowed upon us for good hand writing, or good conduct that have helped us sail through house tests and school exams. And today, it is the same 'grace marks' that have managed to give a push to the Punjabi film Mukhtiar Chadha!
Only this time, we would like to name 'grace marks' as Diljit Dosanjh. The one and only actor, the one and only character that deserves a mention in this film and has managed to keep Mukhtiar Chadha afloat with his punches and vibrant dialogues.
Directed by Gifty and co-written by Gifty and Diljit Dosanjh, Muktiar Chadha stars Diljit Dosanjh, Oshin, Yashpal Sharma, Kiran Juneja, Inderpal Singh in the lead roles.
So, here we have for the first time, a sardar character placed in Delhi and speaking the Delhite Punjabi! And yes, Mukhtiar Chadha bears no resemblance to Ranbir Kapoor's Rocket Singh. It, however, does share the same dragged uselessness of Ranbir's yet another film Besharam!
The film has been shot very well, with each scene conveying its purpose. Mukhtiar Chadha has a storyline (after all it has taken double the effort to write the story), only the story is lost somewhere in the labyrinth lanes of Delhi, in the one after the other punches, in the somewhat dragged second half, in the randomly appearing songs… Nevertheless, Mukhtiar Chadha still has a storyline which only Muktiar (Diljit) knows, for he is the only one following it!
The film is actually baked on a laughter crust, seasoned with Diljit's punches and jokes, which one doesn't mind. They are in fact relishing, till the nutty punches begin to interfere with the taste! Director Gifty has done a decent job of directing, however, when you have actors like Diljit Dosanjh or Yashpal Sharma there isn't much a director needs to do. Maybe, work a little more on the story and the actress.
Mukhtiar Chadha is all about Mukhtiar Chadha and only Mukhtiar Chadha. In other words, this film is about Diljit Dosanjh and only Diljit Dosanjh, and nobody else but Diljit Dosanjh. Diljit definitely shows yet again that he is a spontaneous actor, who can act without a storyline, even when he has co-written the story. The film of course has a lot of fun-filled moments, so much so that you don't see or feel any romance or even sadness. This is where Oshin fails. This actress with a pretty face now also needs lessons in facial expressions and some kind of voice modulation as well. The childish, impish voice and actions need some overhauling, if she needs to go 'taareyan to agey'!
Kiran Juneja plays the role of a likeable and loveable mother. Yashpal Sharma with his sher-o-shayari is impressive and so are Diljit's band of friends, who have actually added spoonful of fun.
The movie, towards the end, takes a plunge into the sci-fi, which can be called 'cute' if you are watching the film for the first time, and if you are Diljit's fan from the 'core of your mind'.
PS: The music of the film is nothing great.