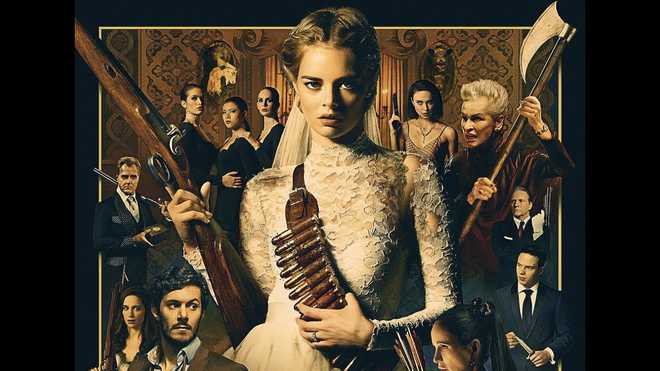 Johnson Thomas
Ready or Not is a vicious game being played, with real people involved. It's a macabre satire on rich people and their unrelenting penchant for gratification – even when it comes at the cost of innocent lives. The script fashions a narrative that takes pleasure in showing rich people armed with pseudo-medieval weaponry, hunting a woman whose blind belief in the power of love brings her into the epicenter of peril.
Soon after Grace (Samara Weaving) takes the first step towards happily ever after with Alex Le Domas (Mark O'Brien) at the Le Domas Manor lawns, she has to face a test. It's been a tradition set by the family Corp's founding fathers and Grace feels compelled to accept the challenge. Little does she know that her very death is up for grabs.
The entire clan, including Alex's alcoholic brother Daniel (Adam Brody), his spouse, mother Becky (Andie MacDowell), sister Emilie (Melanie Scrofano), her husband (Kristian Bruun), father Tony (Henry Czerny), aunt Helene (Nicky Guadagni), kids, Butler, maids, armed with weapons, are seeking her out in a deadly game of hide and seek - with all the players aiming for a kill.
The very idea of human beings hunting each other for sport is warped. The film starts looking much better when the helpless, cowering bride taps into inner resourcefulness to mount a fight-back that turns the tables. The hunters now become the hunted and Kill Bill styled vengeance gets renewed vigour. Directors Matt Bettinelli-Olpin and Tyler Gillett aim for a dark, murky ensnarement while punctuating the high-on-grotesque-thrill fest with satirical innuendos and mind-set revealing punches. Thus making for a gloriously uninhibited free for all end play.
The actors look macabre but do a bang on job playing up their parts to garner maximum returns. Despite its voyeuristic carnage, the film drums up enough fizz to be entertaining. Weaving may have started off helpless, but she comes into her own and commands enough attention to make Grace's revenge worthwhile. This may not be everybody's cup of tea but it's certainly worthy of a dekho!