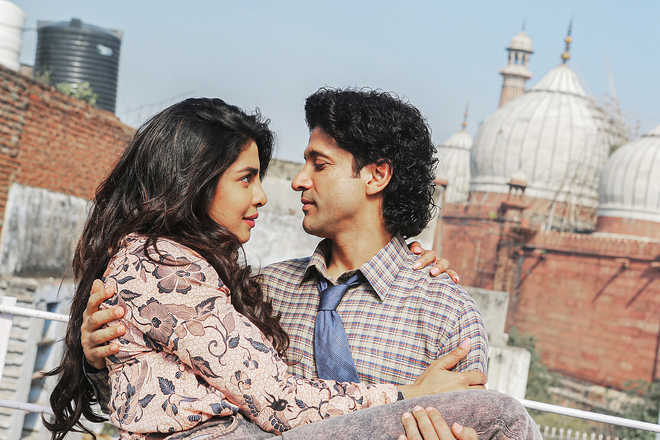 Nonika Singh
Life is a gift. Life is beautiful and it ends too. But should one's impending mortality rob it of its beauty? The question as well as its answer assumes significance as this real- life story leaps out on the silver screen. Parents losing children, howsoever unnatural, is not an uncommon occurrence.
Only when Shonali Bose decides to tell the story of Aisha Chaudhary, who succumbed to pulmonary fibrosis at the tender age of 18, she does so with great degree of warmth, affection and, of course, sensitivity. How a family deals with the acute realisation, how it tackles its pain of knowing the unthinkable of losing their daughter forms the crux of the story.
Indeed, it could easily have been just a tear-jerker or a sob-story. Instead, it is tender, poignant and heart-warming in equal measure. The inevitable death of the girl is tackled in the very first frame. Since it's her tale, she is the anchor here, breaking the tragic cycle with her effusive and cheerful one-liners, talking to the audience from the grave.
So, she recounts the trials and tribulations of her family, even masquerades it as a love story of her parents. For a long, long time, the camera remains on Priyanka Chopra Jonas and Farhan Akhtar, not that we grudge that at all. Their chemistry is palpable and so are their emotions, which feel so real all through. Both actors pitch in their very best, as concerned parents, refusing to be hapless. Priyanka is every bit the stoic and loving mother, whose ailing daughter is her universe. Both her dread, of the ground beneath her giving away, and her fierce desire, to give her daughter the very best, create an emotion-scape. And yes, Farhan, we may not give five stars to the movie as you think it deserves, but your performance and that of Priyanka's sure does deserve kudos. Vulnerable, gritty and above all lovable, Farhan is all this and more.
The daughter lovingly calls him Panda and you bet he is 'awdorable'. As for the daughter played by Zaira Wasim, who takes a while to make her physical presence in the film, well, you can only rue her decision to quit films. Genuine and sincere, there are no affectations in her portrayal of a girl on the brink of death. Though mostly upbeat, her fear of dying too is brought out well, especially when she confesses the same to her sibling Ishaan (Rohit Saraf). Even when the healthy and normal brother is not the centre of attention, here, Rohit is again incredibly believable. But believability is not the only upside of the narrative. For, life is as much about miracles as harsh truths. That all of London came to raise money for the staggeringly expensive bone-marrow transplant of Aisha, when she was a few months old, is not a figment of imagination. It is a fact corroborated by end credits, which also introduce you to the real family that faced its ordeal chin up.
'Babu Moshai, zindagi lambi nahi, badi honi chaheeye,'is a lesson we learnt long ago in Anand. Here too, similar life-lessons, intimate and personal, are handed to us. Yes, it becomes too personal at times, too elongated as well, but touches more than a chord. As you immerse yourself and invest your emotions in this story, you do realise the sky has many other shades too. Even when the overwhelming colour appears deep and dark, a dash of pink can change your perspective. As John Green says in the book, The Fault in Our Stars, "Grief does not change you. It reveals you." Only, we wish it had revealed a little more of Aisha and packed in a bit more of her inspirational Ted-x talks, where she said, "Live with as much happiness as you can find." Nevertheless, the film will make you want to seek happiness, even when life delivers a whammy.
Top Stories