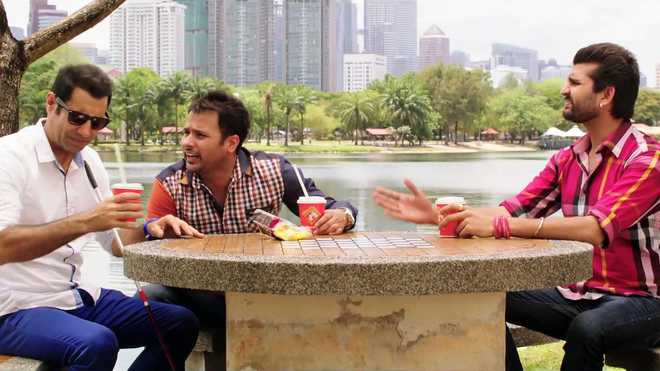 Jasmine Singh
Now, use the word déjà vu in a sentence. Here is a hint-- Punjabi film. Munde Kamaal De, directed by Amit Prasher, gives a déjà vu feeling! Now, if you are asking to logically explain it, this is how we do it. Follow the pointers—
One, the writer Naresh Kathooria, who wrote the screenplay for the cult film, Carry On Jatta, has written Munde Kamaal De's script as well. So, you have familiar scenes, especially those catch-me-if you-can chase and also the punching dialogues.
Two, the director, Amit Prasher, lends a generous dose of déjà vu—he has made sure all the characters of his film are loud, like in his previous film Ishq Brandy. The villain in both his films (read Ishq Brandy and Munde Kamaal De) have some 'for no reason quirkiness,' and ironically for both the films, BN Sharma plays the villain.
However, this is the first time Sharma dresses garishly and he is speech-impaired. All his characters end up running around meaninglessly, banging into each other.
So, along with fragmented entertainment, this film guarantees dollops of déjà vu feeling. Though the director has a good sense of comedy, he knows how to handle his actors but looks like he has willingly handed over the film to his actors.
The first few minutes into the film, other than their glimpses in the first song of course, you wonder where the actors have vanished because the entire focus is given to actor Jaswinder Bhalla. This Chankaata bai has played a big role in the revival of comedy in Punjabi films but Jaswinder Bhalla needs to break his Chankaata mould. If he can't break it, he should at least hide it somewhere, maybe in a washroom!
Munde Kamaal De has some good yet seemingly long songs. As we said, the film even has glimpses of the Bollywood film, Haseena Maan Jayegi. It, however, gives you countable genuine laughter moments or let's say, scenes, all thanks to Binnu Dhillon and Amrinder Gill. Binnu as the blind man and Amrinder with his hearing impairment have acted really well. Amrinder and Binnu have a great comic timing which leaves you in splits. The lanky actor, Yuvraj Hans, with his speech impairment has nothing much to offer, just a few misplaced hand movements. Jaswinder Bhalla is undoubtedly a fine actor if only he wasn't too loud. Karamjit Anmol manages to throw out some comedy. BN Sharma, as the don, is likeable, but he too needs to give himself a makeover.
The actresses in the film, Mandy Takhar and Prabhjeet Kaur, look beautiful. Did you just mention the word acting? Well, they did what they were asked to, look pretty and let their faces be hit by constant smiles and tears.
Munde Kamaal De could have made some kamaal if only the it had a well-placed storyline. When a director has to put together jokes to make into a film, then he normally does this Kamaal! And yes, an abrupt end, double kamaal hai ji!
jasmine@tribunemail.com
Top News
Rana Gurmit Singh Sodhi, Manoranjan Kalia and Amanjot Kaur R...
Can meet at Hyderabad residence on Dec 6, says Kavitha
CM Bhupesh Baghel had earlier accusing the probe agency of c...
Secretary of State Antony Blinken emphasises that Biden Admi...
Gurpatwant Pannu, head of the banned terror outfit Sikhs For...