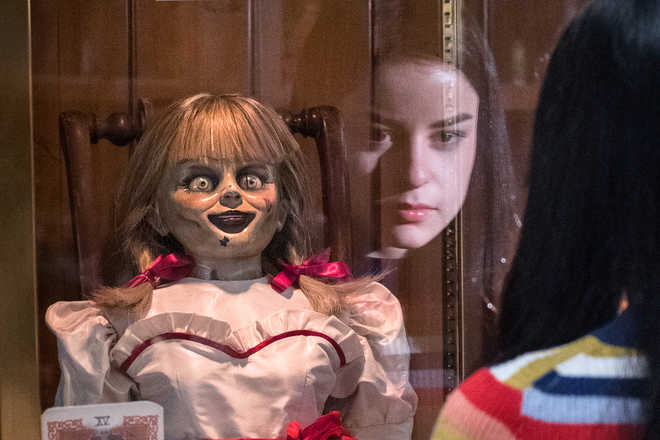 Johnson Thomas
The latest entrant to the Demon-doll saga, Annabelle Comes Home, fills up the franchise vacancy in order to keep the fans amused but there's hardly any chill factor to recommend it to horror aficionados. The narrative hearkens back to Anabelle's origin story of the two frightened nurses handing over the haunted toy to the Warrens after they determine that a demon has taken over its possession.
The opening sequence has the Warrens returning with the doll in the back-seat of their car and a near-death experience throwing up a warning for what is to come. Unfortunately the narrative thereafter is on slow-burn and never really catches fire.
There's nothing fresh, interesting or engaging to hold your attention here. As usual, Annabelle continues to terrify young girls— this time it's the Warrens' 10-year-old daughter Judy (Mckenna Grace), who plans on celebrating her birthday while she's been left alone guarding the fort with her teen babysitter Mary Ellen (Madison Iseman) and her friend Daniela (Katie Sarife). Her parents, renowned paranormal investigator Ed Warren (Patrick Wilson) and his clairvoyant wife Lorraine (Vera Farmiga), are conveniently out of town on a case.
Daniella, who is still grieving over the recent death of her father in a traffic accident, is convinced that the Warrens' paranormal expertise can provide guidance for the spiritual reconnection she seeks with her dad. Since they are not around she (obviously) sneaks into their artifact room and let's loose the demonic spirits contained there. This takes a long time coming and the apparitions that show up thereafter look silly in their fancy dress get-up and ghastly make-up-meant to scare the pants off the audience.
Even though the rather sluggish screenplay makes a great noise about the three girls trapped in a maze like home full of evil spirits, there's little to ingratiate or thrill here. It's also quite silly that the three girls are left to their own devices trying to find out ways and means to drive out the ghosts while the experts, the Warrens, are not on the scene. Despite fairly intense performances, the three don't make much of an impact.
The dramatic array of supernatural entities looks more showy than scary in a narrative that hyperventilates on a Shrill John Bishara score. Annabelle Comes Home runs aground with a surfeit of haunted-house clichés and a severe lack of ingenuity!
Top Stories