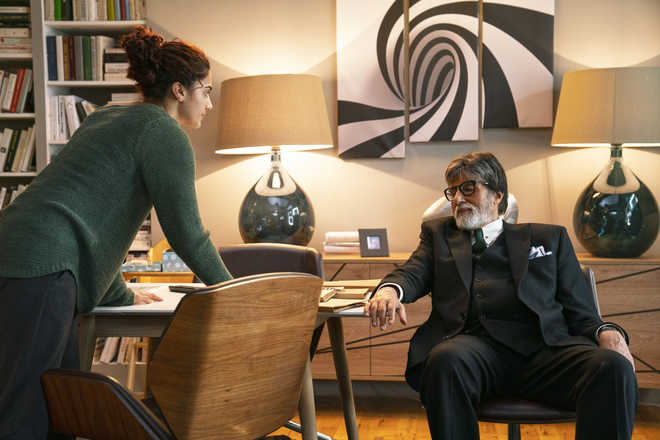 Nonika Singh
Sujoy Ghosh has proved himself as a master of thrillers time and again. With aplomb in Kahani, with finesse in his short film Ahalya and not so effectively in sequel to Kahani, yet there is no denying his talent to keep us on the edge of the seats. So, what does he have to offer when the template is borrowed and adapted from a Spanish film The Invisible Guest?
Never mind that the film is set in England, indeed, the director does try to Indianise it, borrows heavily from Mahabharat's wisdom and reminds us what we already know that the great epic is essentially the story of Draupadi's revenge. Now who is the Draupadi here…we are not telling, though if you are clued in to cat and mouse games, it may not be hard to imagine or decipher the obvious tell-tale signs.
Revenge the word defines the film, as does its title the equivalent in Hindi. If the trailer has already shown you the principal players and set the premise for you to wonder agape at the identity of the real murderer, well, the narrative takes you quickly enough to another death, which you learn is no less despicable as a murder.
How the two are connected, whether murder of Naina Sethi's lover is a simple game of blackmail, well as Amitabh Bachchan's character Badal Gupta, a legal eye, tells us; 'truth has many faces and versions'. What appears a six can be nine too. In short, inverse the logic and the picture would be very different.
Ghosh lays down the game for us and weaves a web of deceit and lies and has the viewers engaged if not hoodwinked completely. At the very onset he throws the gauntlet in our direction… is Badal really a devil's advocate or more, does he have any connection with the missing young boy? And just when you nod and the niggling doubt begins to firm up, he throws you off balance and takes you by surprise.
Surprises are very many and clearly the chakravyuh that Ghosh builds with deft precision has us entrapped. Actually, he sets up two deaths, one which is obvious and the other somewhat suspenseful and plays off one against the other. Actors, be it lead parts (Amitabh Bachchan and Taapsee Pannu) or special appearances (Manav Kaul) or pivotal ones (Amrita Singh) enhance the cinematic experience. Bachchan is perfect for the part that is inscrutable, enigmatic and charming.
Taapsee as the ambitious successful business woman holds her ground and slips into her part and its shades that range from hapless, guileless to not so innocent. Mind games that the two lead characters play as the lawyer and the client is enticing and has the requisite dose of twists and turns and at the very right junctures.
Unlike Bachchan and Pannu's previous outing Pink, this is no courtroom drama but a mystery which has its moments. Truth lies in details as does devil and for a keen discerning eye, Ghosh does pepper quite a few to pick, chew and mull over. Only the final denouement leaves you more than a trifle dissatisfied.
Sure you see it coming as things roll on. But the finale is one spoiler you may find hard to swallow. Nevertheless, Badla is watchable fare even though in comparison to suspenseful Kahani you may find it falling short. However, this revenge does come up short and sweet.
nonikasingh@tribunemail.com