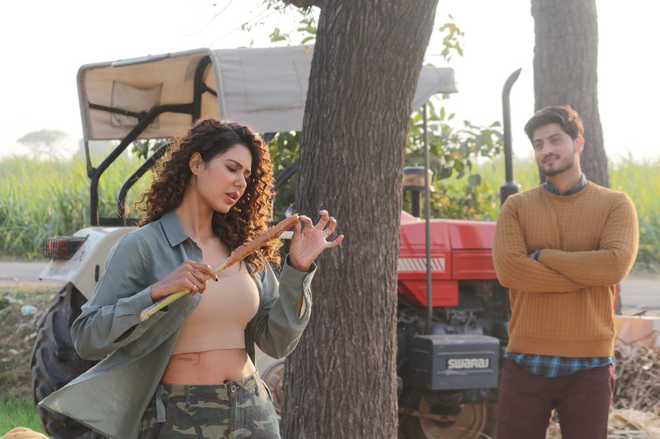 Gurnaaz Kaur
There are family ties, discords, village life, connecting with the roots, a wedding in the next of kin and simmering romance—there is all this and more that the director has tried to showcase in Guddiyan Patole. No wonder then that the story gets jumbled up and that's precisely its Achilles' heel.
Essentially a journey of two sisters, who live separately with each parent in Canada, are persuaded by their mother to visit Punjab. As she gets a call from her brothers after two decades of broken ties, because she married a foreigner against the family's wish, she feels compelled to bridge the gap through her daughters. These sisters, played by Sonam Bajwa and Tania, have spent their childhood away from each other are brought together by this journey.
Right from when they land at the airport, a cab owner turns its driver because he falls in love with the idea of living in Canada and thus in love with the elder sister Sonam Bajwa from the word go. Played by singer Gurnaam Bhullar and marking his debut in acting, he is dreamy and charming all through, even when he's shown expressing his feelings to a toy dog placed in his car.
Sonam Bajwa portrays a rebel and every now and then takes up the cause of gender equality as she gets drunk and commands her paternal uncles to help her aunts in the kitchen or when she protests the idea of men being served food before women. Not a believer of exhibiting emotions, she likes to keep her distance yet is all involved. In parts, her role is over the top and even soporific.
Tania, the younger sister, plays a lovable granddaughter, niece, sister and she has done her bit adorably barring the heavily accented English words she says here and there.
While the first half of the story revolves around the sisters experiencing village life and enjoying having a family around, something they missed during their growing up years, in bits it also shows their grandmother confined to a room, always angry, non-participative in family affairs and holds a grudge against her daughter, which she shows to her granddaughters.
In the second part of the film, when the girls decide to go back as they find out that they were called only to let go of their share of land to the men of the family, a realisation dawns on them that their grandmother misses her daughter. They take a u-turn and revive their relationships. The grandmother suddenly gets all pally with her granddaughters and as a part of their bonding, they spend days away from other family members. The fun part includes going to a disc, visiting a salon and pampering the grandmother, enjoying a family wedding et al.
In these five days, the whole scenario changes, everyone loves everyone, mother and daughter unite over a phone call, grandmother mellows down with her sons. We reach the 'all is well that ends well' part when Sonam Bajwa decides to stay back in the village for good, tells her sister to bring their mother for a visit soon and finally she accepts the unexpressed love of the constant companion of their trip- the driver, Gurnaam Bhullar.
Yes, too much on the plate, that's what we thing. The director and writer had a different story- without all the unnecessary comic punches or the clichéd love story- but he marred it with too many elements.
gurnaaz@tribunemail.com
Top Stories