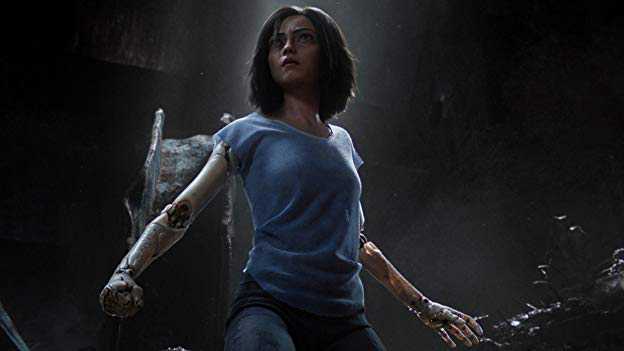 Johnson Thomas
This cinematic adaptation of Yukito Kishiro's original manga comics series, by James Cameron, Roberto Rodriguez and Peter Jackson's special effects team is a series springing adventure that promises to go the long haul. Guillermo del Toro had suggested the idea to Cameron back in the late 1990s, and it's taken Cameron and team this long to get it to screen – so you can just imagine the kind of work that has gone into creating this special experience in IMAX 3D.
Alita opens in colourful exuberance showing a young teenage girl (obviously Cyborg) interacting with her protective father/creator, Doctor Dyson Ido (Christoph Waltz) and subsequently has her going out and engaging with the teens within the sprawling wasteland called Iron city. That's where she meets robo-junk dealer Hugo (Keean Johnson), who is building up cash for a spring-up to the Flying citadel Zalem (a sort of hi-tech heaven that mere mortals and retrograde cyborgs have little chance of gaining entry into). Soon it becomes evident that Alita has a hidden history that connects her to Zalem and the Powers that control Iron city want to gain control of her one-of-a-kind heart that has the fusion power to ignite an entire city. The writers add a sort of codicil making it imperative that Alita wins a Motorball championship in order to gain permission for herself to enter Zalem. So you get plenty of dazzling, super-kinetic action but the plotting goes a little haywire in the process - trying to build-up a confrontation with a super villain, monstrous killer cyborg Grewishka (Jackie Earle Haley), who looks like a cross between Transformers and a sort of metallic Octopus.
There's also the additional weight of having to give Oscar crowned Mehershala Ali and Jennifer Connolly something worthwhile to do. Their presence doesn't make much sense in this edition though.
This film is largely a sensory experience of vivid colours, stunning and deep 3D imagery, fantastic CGI shot-making and intricately detailed and expansive production design. The tech specs here are a work of art no doubt. Manga-styled kick-ass action also deserves praise. Even Alita, seen through a digitally morphed motion-capture performance by Rosa Salazar, is intimately captivating. Unfortunately there are moments in the film where she seems a tad unreal. The cutting edge effects though are special.
Rodriguez, as director, leaves his personal mark on this creation –giving it a Latin American feel replete with Spanish language signs and architectural design. Also, the relationship between Alita and her father suggests there's much more the filmmakers are planning to bring up in the sequels to follow. The supporting characters in this film seem stereotypical of the genre and the exposition doesn't do much to explain Alita's back story so the narrative feels clunky at times. The action though is spectacular. It's a stunning array of craft and hi-tech that is as captivating as it is overwhelming!
Top Stories