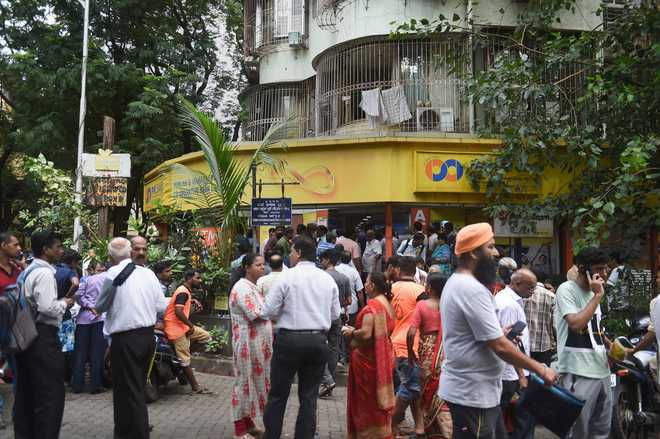 amansharma@tribunemail.com
Shiv Kumar
Tribune News Service
Mumbai, October 7
Mumbai's Sikh community, many of whose members stand to lose their life savings should the Punjab & Maharashtra Co-operative Bank collapse, has come together to save the troubled bank.
The initiative to save the bank has been taken by the office-bearers of the Sri Guru Singh Sabha, a major gurudwara located at Dadar in Central Mumbai. Several meetings have been held here ever since the Reserve Bank of India imposed restrictions on withdrawing money from bank.
At a meeting held with the arbitrator appointed by the Reserve Bank of India to oversee the affairs of the Punjab & Maharashtra Co-operative Bank (PMC), depositors were advised not to rush into withdrawing their money for at least two to three years once the bank resumes operations. "The arbitrator told us that the bank can be saved provided the people do not panic and rush to withdraw their money," Raghbir Singh Gill, president of the Sabha said.
According to sources here, Sikh community leaders are setting up grievance centres to mobilise depositors whose funds are locked at the PMC Bank. Apart from collecting details about the problems faced by them, Sikh organisations are seeking legal opinion to file cases against the management of the PMC Bank.
A number of Sikh organisations which run hospitals, educational institutions and gurdwaras in Mumbai have their funds locked up in the PMC Bank. Reports say many of these bodies face problems in managing their day-to-day operations.
Several gurdwaras in Mumbai had to pass the hat around to collect fresh funds for the Gurpurab celebrations after they could not withdraw funds from the PMC Bank, according to sources here.
Meetings of depositors of PMC Bank have seen tempers run high with people calling for a social boycott of the eight directors of the bank. There have been calls for their ex-communication from the Sikh community as well. A few affected persons have even threatened to approach the Akal Takht to pursue the ex-communication of the PMC Bank's directors on the grounds that they brought financial harm to the Sikh community.