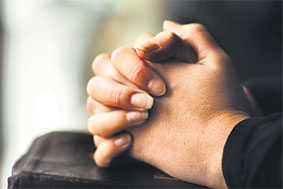 CAN anyone be converted to Hinduism? Thinking about it took me to a conversation that had taken place between my father and I nearly 78 years ago, when I was five years old.
My father was getting ready to go to work when I "commanded" him to tell Amma to get me all ready in nice clothes before lunch so he could take me to a mosque. My friend, Abdul, was the son of my father's colleague and was my age. Both of us had the same maulvi teaching us Arabic.
Every Friday, just before lunch, he would come to my place, showing off his dainty clothes meant for going to the mosque with his father. I wanted to do the same.
My father had a hearty laugh. Making me sit on his lap, he explained in a cool voice that since we were Hindus, we do not go to mosques. He said we could visit temples, but I had not even been to a temple. I was taken to a temple for my mundan ceremony when I was barely three years old.
However, I was a regular visitor to a 'nice room' in our house, primarily for the laddoo as prasad. My mother would call this room, mandir — home to many brass statues and pictures of Hindu gods and goddesses.
I asked my father, "Why are we Hindus while my friend is a Muslim?" My father replied patiently that there was only one 'qualification' to be a Hindu and that is to be born of Hindu parents.
Since my parents were Hindus, I am a Hindu by birth. A Hindu remains a Hindu throughout one's life even without performing a single puja or chanting any mantra or visiting a temple.
So it seems that being a Hindu is a birth right, provided he is born of Hindu parents, while in some other religions, the child has to be baptised or enunciated to a particular religion according to the choice of his or her parents.
What will be the religion of a child born to a Hindu (Indian-American) father and Christian (white-American) mother? Does a newborn have a religion?
In 1979, during my first visit to Fiji — then a happy multi-ethnic, multi-religious country — I came across a man by the name of 'John Sher Mohammad'. Out of sheer curiosity, I asked him how he got his name. His answer was simple and direct. His father, a Muslim, had migrated to Fiji from Kerala and married a Fijian Christian lady. He would accompany his father to the mosque every Friday, and would follow his mother to the church every Sunday.
"Are you married, and if yes, what about your children?" He said he too had married a Christian lady and both were continuing the same tradition. "My children go to mosque on Fridays with me and to church on Sundays with their mother. The question of religion is best left to the children. They can choose whichever religion they want once they grow up."
A very sensible option, no doubt.
Top Stories