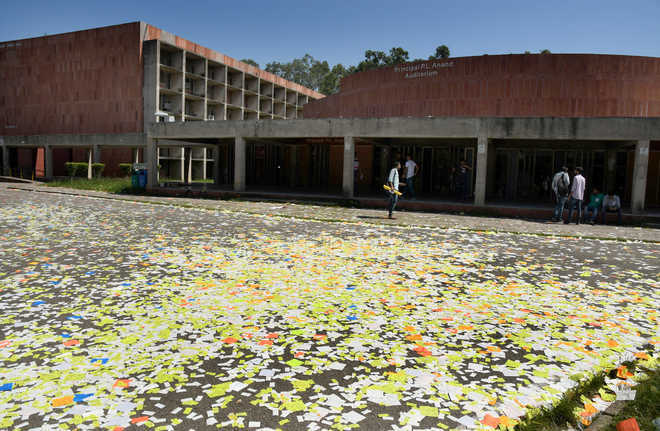 Sanjeev Suri
As I entered the noisy classroom adjoining the staffroom to quieten the students, they got ready to vacate the room as their environment science teacher was on leave. 'Don't leave. Let's discuss environment,' I told them. But they were reluctant to take part in any discussion and wanted to go out to enjoy their free period. Their gestures and expressions reflected that they felt confined. On prompting, a girl stood up and said: 'Sir, no use of teaching environment science in college. This additional subject is an unnecessary burden.' I told them that EVS had been recently introduced as a compulsory subject to generate empathic feelings in students for environment. 'How can mere teaching of EVS make us care for environment? It is an academic formality. Our interest is only to clear the exam. That's all,' she added.
Before I could rebut, a boy said: 'Sir, I don't hold this view. Seminars and campaigns associated with environment do yield results in the long run. For example, Swachh Bharat campaign has certainly brought about a behavioural change in us. I would give my own example. It may not have brought about a real transformation in me, but just not to cut a sorry figure in the eyes of the public, I don't litter roads, but keep wrappers in my pocket and empty them in a dustbin.'
Appreciating the boy, I corroborated his point by narrating an incident: "Some days ago, I saw at the college gate four young men with a large pile of publicity material of their respective engineering colleges. They were distributing flyers and thrusting them into the hands of students and passersby. Instead of reading them, most of them were just dropping them on the road. Three schoolgirls, perhaps of Class VII-VIII, of the adjoining school walked past and not wanting to be passive spectators to the spread of filth, confronted the boys boldly, asking them not to litter the place. Laughing unctuously, they tried to ignore the little girls. But they were firm. 'Stop all this,' they commanded. 'Don't overdo things, let's do our job, this is none of your business,' one of the boys remarked sternly. Meanwhile, the girls got the support of some passersby. The boys stopped distributing the leaflets and tried to rush from the place. 'Do you think we will let you get away with all this litter? Clear this ugly mess,' thundered one girl, taking a boy's arm and propelling him towards the litter. They muttered under their breath while glaring at the girls. Embarrassed and humiliated, they did as told and hurriedly picked up the litter and put it in their cars and sped away."
By now, the students had forgotten that I had encroached upon their vacant period. The students were happy when I conceded to the request of a student who wanted to invite those gutsy girls to their class someday.
Top Stories