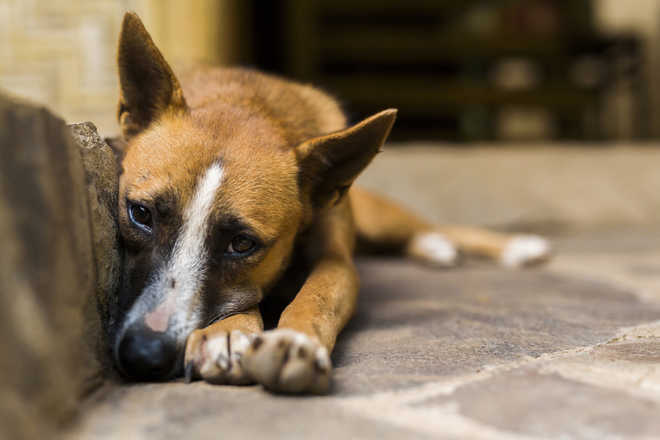 Rana Preet Gill
She had been calling me every day now. I reassured her that her pet did not need any more medications, but my words did not comfort her. She told me that it closes its mouth when she tries to bring the spoonful of medicine close to the snout. She would implore it to open its mouth, but it would keep looking at her with pleading eyes.
Asked how she could decipher the plea, she said she had learned to communicate with her Pomeranian through a silent language.
I sent my helper to her home to have a look. He said the dog looked perfectly healthy and even the temperature was normal. I sighed and considered the owner too fussy and attached with the animal. But when the calls did not cease, I decided to pay her a visit to make her understand that her worries were misplaced.
The house looked like a mansion and sparkled from a distance, but the moment we entered the premises, it was dusty and reeked of abandonment. What looked impressive from a distance, narrated a tale of neglect. I waited for the owner while the little dog indulged in playful behaviour around me. As I was seated in the drawing room, I started noticing the family pictures that hung in fancy frames adorning the walls.
The owner was frail and in her late sixties. Her eyes, embedded deep in the sockets, were guarded by a pair of spectacles, which she adjusted to have a thorough look at me. She had seen me looking at the pictures with interest, and soon started acquainting me with every family member, all of whom were settled abroad and visited her once a year.
Her talks did not seem to ebb. She spoke about her family while I was getting restless, wondering about the purpose of my visit. I looked at my helper seated in front of her, coaxing him to speak. He finally interrupted her and asked: 'Mataji, takleef ki hai dog nu?'(What is the problem with the dog?)
She looked at him absentmindedly and went silent for a moment. 'Isda dil nahi lagda? Kalla mehsoos karda hai?' (It feels lonely.)
I looked at her perplexed and wondered what kind of treatment will suffice for a dog that suffered from imaginary loneliness, as premeditated by the owner.
After prescribing some multi vitamins and wishing it speedy recovery, we made a quick escape. The facade of the house that housed tomes of memories of its inhabitants spoke of hollowness and decrepitude, which had begun to sunk deep in its roots. In the coming years, this house became a vision of loneliness that infested the minds of those who occupied it.
I do not know if the little Pom was cured of its loneliness, but I knew, in this part of the world the wait for homecoming never ends.