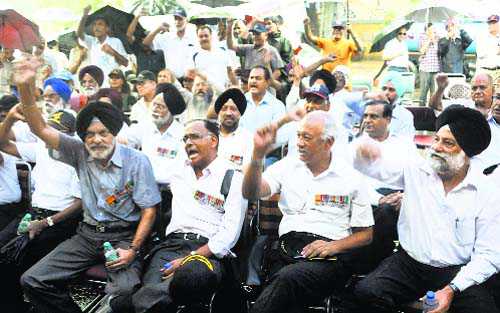 Tribune News Service
New Delhi, July 11
Veterans of the June 1971 batch of the Indian Military Academy (IMA), fondly called "Born to battle", joined the protest against non-implementation of the one rank, one pension (OROP) at Jantar Mantar here today. India went to war with Pakistan in November-December 1971 and almost the entire batch of the June 1971 IMA passouts went to battle, hence the sobriquet 'Born to battle'.
Second Lieutenant Arun Khetrapal of the batch was awarded the Param Vir Chakra, the country's highest battle honour, for his act of bravery at the famous 'battle at Basantar' in West Pakistan. More than 50 veterans of the batch arrived from all over the country, another three were represented by their wives and some of them by children.
Lieutenant General Sujlana (retd), who is from the same batch, said among the protesters today were five retired Lieutenant Generals, four Major Generals and one Air Marshall of the Indian Air Force.
General Sujlana commanded the 10 Corps at Bathinda and was commandant of the IMA.
Major General Satbir Singh (retd) of The Indian Ex-servicemen Movement (IESM) said: "We are waiting for the government to implement the OROP by July 15 or we will intensify the agitation. There has been no feeler from the government as yet. We have already announced our intension for the programme beyond July 15."