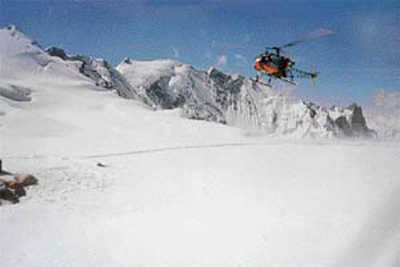 Ajay Banerjee
Tribune News Service
New Delhi, February 3
Ten soldiers of the Indian Army are missing following an avalanche on the Siachen glacier in the northern part of the Jammu and Kashmir.
The avalanche occurred this morning in the northern-most part of the 70 square km glacier that forms the tri-junction of India, Pakistan and China.
The Madras Regiment is stationed at the spot where the avalanche occurred. One post on the Army – a stone bunker – has gone under the glacier.
A rescue operation by specialised teams from the Army and Air Force was launched during the day but was called off around 4 pm as temperature dipped drastically. "It was risky for the rescue teams. The operation will resume tomorrow," a senior official said.
One Junior Commissioner Officer (JCO) and nine other ranks of the Indian Army came under the avalanche, Defence PRO at Udhampur-based Northern Command Col SD Goswami said.
The area has no loose snow, an avalanche at that height occurs when ice blocks move down from the heights.
The average altitude in the area is 20,000 feet and day time temperatures are minus 20 degrees Celsius. Indian troops had occupied the glacier in 1984 after fears that Pakistan Army was trying the same. A 109-km long divide between India and Pakistan is called the actual ground position line (AGPL).
Last month, four soldiers of 3 Ladakh Scouts were killed when their patrol party was hit by a massive avalanche in the Ladkah region of Jammu and Kashmir.
In 2012, an avalanche on the Pakistani side had caused the deaths of more 30 people. — With PTI inputs