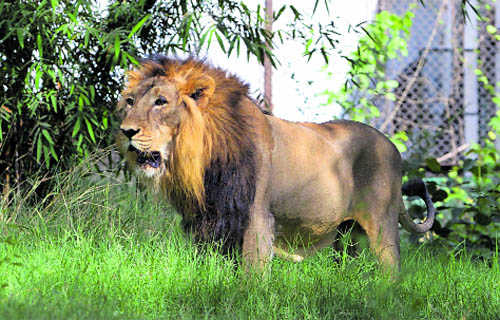 Manas Dasgupta
Ahmedabad, March 21
The Gujarat Forest Department has admitted that more than 160 Asiatic lions have died in the Gir forest in the last two years since the 2015 census put their population at record 523.
This included death of 95 lions from April 2015 to March 2016, and another 67 from April last year to date. What was more shocking of the 95 deaths recorded last year was that 25 died unnaturally, including of electrocution by coming in contact with live wires put up by farmers to save their crops from herbivorous animals, and falling into wells left open by farmers in their fields, the department revealed in a reply to a query under the RTI Act.
(Follow The Tribune on Facebook; and Twitter @thetribunechd)
Almost all unnatural deaths were recorded in the areas outside the protected sanctuary zone in the periphery of the villages falling within Gir forest as under pressure of increasing population and shortage of prey, a number of Asiatic lions fanned outside the sanctuary zone and into the habituated villages. The wildlife experts said some of the carcasses of the lions were found in such highly decomposed conditions that it was even difficult to ascertain the exact causes of their death.
The high death rate of the lions concerns environmentalists who have urged the state government to expand the protected zone to cover the wastelands and some other areas in the periphery, particularly because the state government was opposed to the idea of shifting a few species to Kuno-Palpur forests in neighbouring Madhya Pradesh to create a second home for the Asiatic lions.
Meanwhile, a man-eater sloth bear, which had strayed out of the forest areas in Danta in Banaskantha district in north Gujarat and killed three persons besides injuring four others, was killed by sharp-shooters in a joint operation by the foresters from Danta, Gir Sanctuary and even Delhi who were rushed to the area this afternoon after the locals raised the alarm.
Top News
Lived in self-imposed exile in the UAE to avoid criminal cha...
After his failed misadventure in Kargil, Musharraf deposed t...
Congress leader Jairam Ramesh says starting Sunday party wil...
Military shoots down the surveillance balloon in Atlantic Oc...
The incident took place on Friday when Kambli reached his fl...