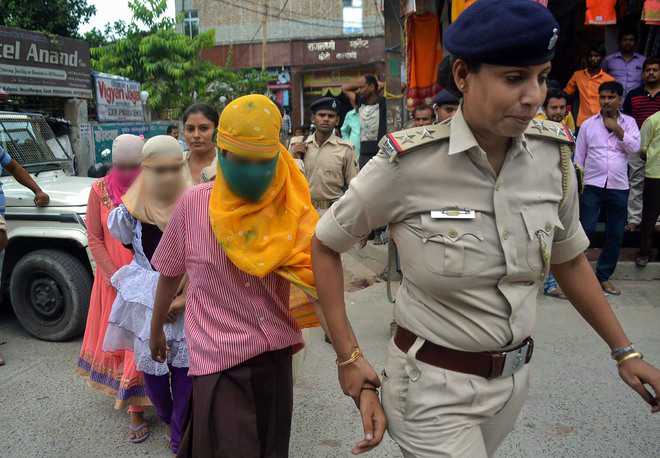 Jitendra K Shrivastava
Patna, July 23
Acting on court orders, the Bihar Police on Monday dug up a ground on the premises of a Muzaffarpur shelter home run by an NGO in search of the body of an inmate who was allegedly murdered after sexual assault. The excavation work ended as no body could be found.
The matter came to light after a social audit report of the TISS (Tata Institute of Social Sciences) claimed that 42 girl inmates of the Muzaffarpur Balika Grih had allegedly been sexually assaulted. The inmates were allegedly beaten up or drugged before being sexually abused.
One of the victims alleged that those who resisted rape were killed. A girl was beaten up and killed and her body was buried on the stay home premises, she had alleged. The court ordered excavation to exhume her body in presence of magistrate Sheela Kumari.
"On court's permission, the excavation was carried out at the stay home run by NGO Seva Sankalp and Vikas Samiti on Monday with the help of sniffer dogs but nothing was found. Further probe is on to ascertain the veracity of the allegations," said Muzaffarpur SSP Harpreet Kaur.
"One of the inmates had alleged that staff members often assaulted girl inmates and one of them had died in the process. We dug up the spot on the premises to verify her claims," she said.
A special investigation team (SIT) had been formed. "The police have arrested 10 persons in connection with the Muzaffarpur stay home incident, while raids are on to nab other accused," said the SSP.
The girl inmates were shifted from Muzaffarpur to other homes, while medical tests were carried out to ascertain rape. At least 16 of the 21 medical reports submitted to the officials concerned had confirmed rape, while other reports are yet to come," said sources, adding some other girls had disappeared in the past and the matter was under investigation.
At least 30 traumatised rape survivors were under medical observation at various hospitals. Madhepura MP Papu Yadav had demanded a CBI probe into the incident.
Top News
Massive debris blocks a river, creating a reservoir that may...
After anticipated CM candidate Fadnavis springs a surprise b...
A mass leader, he enjoys widespread support and is also cred...
Ex-MLA will get a pension of Rs 60,000 per month plus Dearne...
Opposition Congress has called new armed forces recruitment ...