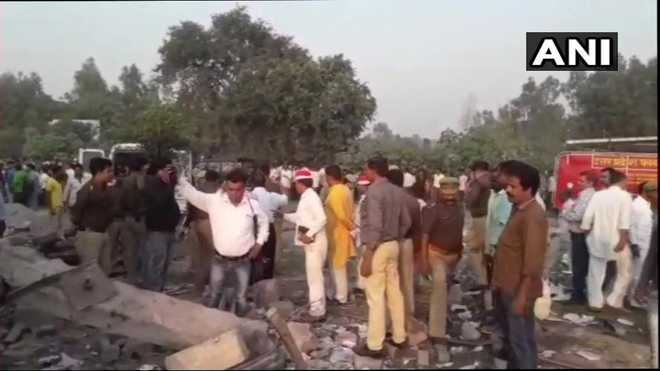 Tribune News Service
Lucknow, October 26
At least eight people died and three critically injured in Rasurpur village in Badaun district on Friday in an explosion in a firecracker warehouse.
Speaking to The Tribune, Badaun Superintendent of Police Ashok Kumar, who is at the spot supervising the relief and rescue operation, said the cause of the sudden blast in the authorised warehouse is a subject of inquiry.
The accident occurred in Rasurpur which falls under Civil Lines police station at around 4 pm.
The loud blast brought down the building where fire crackers had been stored with the permission and knowledge of the local administration, said the SP.
The impact of the blast was such that the whole area felt the reverberation.
Badaun SP said that it was too early to ascertain the details of the dead or if there are any more people buried under the debris.
The injured have been rushed to the district hospital where their condition is said to be critical.
Taking cognisance of the explosion in Badaun, Chief Minister Yogi Adityanath has directed the Badaun district magistrate to take all necessary action and provide relief to the injured, said a state government spokesperson.