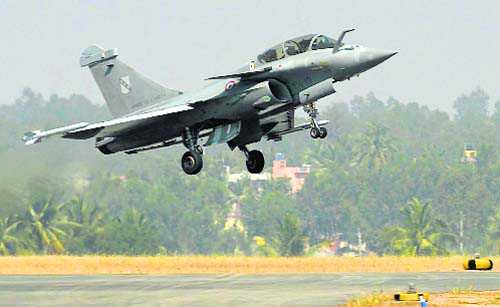 Ajay Banerjee
Tribune News Service
New Delhi, July 3
Facing a crisis of a dwindling fleet of fighter jets, the Indian Air Force (IAF), has formally told the Ministry of Defence (MoD) that it needs at least 80 Rafale-type multi-role combat fighter jets to be battle-ready in the next few years.
This is the first time the IAF has put a minimum number to its needs since the government, in April this year, announced a decision to buy 36 Rafale fighter jets from France in a "fly-away" condition. Initially, the IAF had projected the need for 126 such fighter jets and a global tender was floated, which is now in cold storage after the decision to buy Rafale was announced.
The Tribune, on June 2, had first reported that the IAF was reportedly uneasy with the number of jets ordered. It had prepared a blueprint for the MoD. Sources said the IAF has conveyed the need for five squadrons and estimated a squadron at 16 jets each, instead of the normal number of 18 jets, as the Rafale with its high-end technology is available to fly at short notice and has a shorter maintenance "turn-around".
This works out to be 80 jets of Rafale or planes of such a type. The number is more in tune with creating minimum facilities for servicing and training of pilots and on ground technicians. "A decision on this has to be taken by the government," a senior functionary said.
Defence Minister Manohar Parrikar had, in an interview to a news agency on May 31, said buying 126 jets, as proposed by the previous UPA government, was "economically unviable".
Sources said the IAF has said "mere" 36 jets would not meet the shortfall due to the phasing out of fleet of MiG-21 and MiG-27 jets by 2022. There are some 260 obsolete MiG-21s and MiG-27s (Soviet Union-era single-engine fighter jets) in the fleet.
The force had projected an immediate requirement of 126 Rafale-type medium multi-role combat aircraft, and needs 400 jets over the next 10 years.
As of now, the IAF has 35 fighter jet squadrons (having 16-18 planes each) against its projected requirement of 42 squadrons to tackle any simultaneous war with China and Pakistan.
A mixed ancestry and level of technology marks the 640-odd fighter jet fleet, largely imported from Russia over the past 30 years. British and French companies have supplied around 150 planes.
In October last year, IAF Chief Air Marshall Arup Raha had said: "We are left with a few jets as a majority of our fleet is in a phase-out mode. The drawdown has to be tackled by quick induction of medium multi-role and light combat aircraft."
Top News
Hundreds are still believed to be trapped under rubble, and ...
Some purported statements of the lawyer, allegedly against M...
It will enable India to meet its entire requirement of helic...
The municipal House fails to elect a mayor on Monday after a...
Earlier, TMC skips opposition meeting on the issue