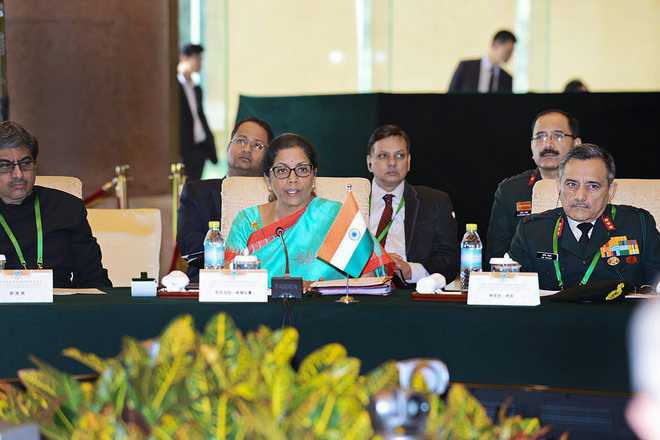 Ajay Banerjee
Tribune News Service
New Delhi, April 24
Defence Minister Nirmala Sitharaman on Tuesday made it official that India will participate in a multi-nation military exercise to be conducted in Russia in September this year. Notably, the exercise will involve China and also Pakistan, India's edgy and acrimonious western neighbour.
The exercise in Russia is part of the Shanghai Cooperation Organisation (SCO). India, China, Russia and Pakistan, among several other countries, are part of the SCO — bloc of largely Asian countries.
India is, for the first time, attending the Defence Ministers' meeting at SCO being hosted in China. This will be first-ever exercise in which Indian and Pakistan militaries will fight together in mock operations to eliminate terrorists, neutralise terror networks and thwart possible attacks besides testing combat readiness.
Indian and Pakistan soldiers have operated together in the past on foreign lands while providing security or in convoy protection deployment as peacekeepers under the United Nations.
The exercise — "Peace Mission 2018" — is slated to be held in Russia's Ural Mountains. It will begin in August-end and conclude in the first week of September.
The SCO was formed in 2001 by China, Kazakhstan, Kyrgyzstan, Russia and Tajikistan. Now the grouping has eight full members, including India, Pakistan and Uzbekistan. Another four nations have been accorded "observer" status, while six others are "dialogue" partners.
Held once in two years, "Peace Mission 2018" will be the fifth edition of the multilateral exercise. However, this will be the first time for the two neighbours as they became SCO members in June last year. Sources said India will send a 200-strong contingent to Russia.
In China, Sitharaman said: "India enjoys excellent bilateral defence cooperation with a large number of SCO countries, especially with Russia, as well as with all of India's Central Asian partners represented in the SCO."
'Differences should not become disputes'
We are guided in our relations with China by the consensus reached between our leaders that at the time of global uncertainty, India-China relations could be a factor of stability and that we must not allow our differences to become disputes. — Nirmala Sitharaman, Defence Minister
Top News
The CBI has registered an FIR in connection with alleged irr...
Says CBI raid reward for good performance
Punjab ministers Harjot Bains and Chetan Jouramajra also sla...
5 kidnappers arrested; wanted to sell the child for Rs 50,00...
Canada is one of the popular destinations for Indian student...