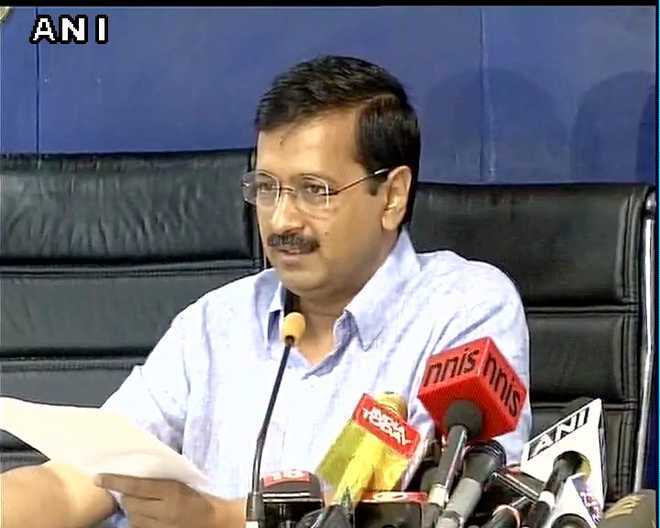 New Delhi, October 3
Taking a turn from his usual attacking stance against the Centre, Delhi Chief Minister Arvind Kejriwal on Monday hailed Prime Minister Narendra Modi's "decisiveness" to act against Islamabad with a surgical strike and called on the latter to now wage a war against the 'dirty propaganda' being spread by Pakistan against India.
Speaking in a message posted on YouTube, Kejriwal admitted that he might not see eye-to-eye with the Prime Minister on several counts, but saluted the move by the latter to carry out a surgical strike against active terror launch pads in Pakistan occupied Kashmir (PoK).
(Follow The Tribune on Facebook; and Twitter @thetribunechd)
"Nineteen jawans lost their lives in Uri and the Indian Army took revenge for that last week and carried out surgical strikes in terror launch pads. I have 100 disagreements with the Prime Minister on several issues, but I salute the will power shown by him in this matter," he said.
Asserting that Pakistan is losing its mind since the operation was carried out, Kejriwal said the hostile neighbour had now resorted to dirty propaganda against India in an attempt to save its image.
As we fight Pakistan on Ground, we must fight their propaganda as well.

Watch @ArvindKejriwal's appeal to Modi ji. #AKBacksModiOnPak pic.twitter.com/Y7oJGZVzk6

— AAP 🇮🇳 (@AamAadmiParty) October 3, 2016
"We have seen in the past two weeks that Pakistan is taking international journalists to the border and trying to show them that no surgical strike happened in the first place. Two days ago, the United Nations gave a statement that no untoward activity had been spotted on the border. The CNN ran a report that the Pakistan government took a bus filled with international journalists to prove that no such strike took place, and that people were living regularly and that enraged me no end," the Chief Minister said.
Emphasising that several international news organisations like the BBC and the New York Times were running reports questioning the existence of such an operation by India, Kejriwal added that Pakistan is working hard to insult India at the international level.
He appealed to the Prime Minister to expose Pakistan's propaganda and attempts to malign India, in the same way the Indian Army took revenge for the deadly Uri attack.
"I appeal to the nation not to fall for Pakistan's false propaganda," he added.
Earlier, Congress vice-president Rahul Gandhi also had congratulated Modi for the "first action worthy of his stature".
"When the Prime Minister does the job a PM is supposed to do, I support him. I want to congratulate him. In the last two years and more this is the first action worthy of a PM. The whole country is with him. All of us stand firmly united against terrorism and those who support and sponsor it," he said addressing a public meeting in Uttar Pradesh's Bulandshahr. ANI