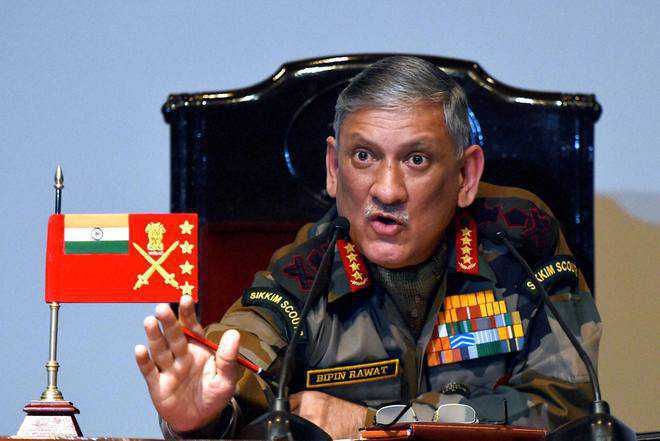 Ajay Banerjee
Tribune News Service
New Delhi, July 7
In a drive to bring down daily running costs, the Army has laid down a list of strict dos and don'ts for its officers. The instructions have been issued at the intervention of Army Chief Gen Bipin Rawat.
One of the advices is to avoid staying at hotels and making use of Army guest rooms when on temporary duty or visits. The successive pay commissions have meant that several senior officers in the rank of Colonel, Brigadier, Major General and Lt General are entitled for a three-star hotel — in some cases a five-star — facility, which costs a lot of money.
No lavish parties under the name of get-together to host a visiting senior commander, says another set of instructions. However, when senior commanders visit the troops, a tea-snacks session has to be organised strictly with eatables from the cook house of the unit. For the service headquarters at New Delhi and its various wings, the force has directed against any elaborate arrangement for tea-snacks at seminars, conferences and meetings. At conferences, water won't be served by waiters and water bottles will be kept at a central location for self-service.
The Army has also asked its officers to try and avoid needless travel since the Army had an available dedicated high-speed fibre network through which the Commander of Corps, a Lt General, commanding a force of some 45,000 or so could communicate anything through live video-conferencing. The Division Commander, a Major General; Brigade commander, a Brigadier, and the Commanding officer of a battalion, a Colonel, all reporting to him are available at the click of a button.
At peace stations, cuts have been imposed on authorisations of the fuel to be used. The table for fuel consumptions has been checked and re-checked to have the best possible allocation of money. Lastly, on the cost of printing and stationary, the Army has asked all its officers to use their own dedicated computer network for correspondence instead of taking out a print and sending hard copy.
In austerity mode
Fresh instructions ask officers to avoid needless travel by communicating to those reporting to them via video-conferencing
Officers have been asked to correspond online instead of taking a print and then sending hard copy
After checking table for fuel consumptions, cuts have been imposed on the authorisation of the fuel to be used by the officers