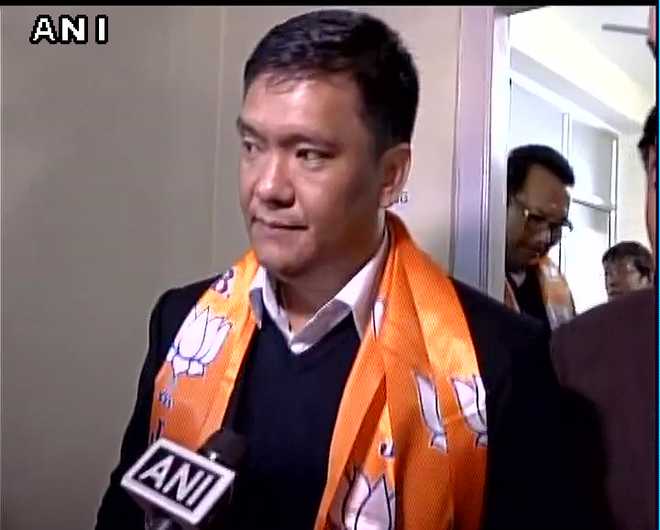 Bijay Sankar Bora
Tribune News Service
Guwahati, December 31
The BJP is set to have the last laugh as a consequence of the latest power struggle within the ruling People's Party of Arunachal Pradesh (PPA) with the saffron party set to have a government of its own in the hill state with Pema Khandu as the chief minister.
It has become clear after Chief Minister Khandu on Saturday announced in Itanagar that he, along with 32 other PPA MLAs, had decided to join the BJP to make it a complete BJP (not BJP-supported) government in Arunachal Pradesh with the intention to bring about a stable government for the sake of facilitating rapid development of the hill state under the leadership of Prime Minister Narendra Modi.
Khandu made the announcement in the presence of Arunachal state BJP president Tapir Gao before the media in Itanagar. Gao said it would now be a BJP government in Arunachal Pradesh from the New Year and Khandu would remain the chief minister.
Khandu, along with six other MLAs, was temporarily suspended from the ruling PPA by its president Kahfa Bengia on charges of anti-party activities and hobnobbing with the BJP two days back creating a fresh political instability in the state.
In the wake of Khandu and 32 PPA MLA joining it, the strength of the BJP which has 12 MLAs of its own, on the 60-member Arunachal Pradesh Assembly would increase to 45. Two Independent MLAs in the House will also extend support to the Khandu-led BJP government.
Khandu had joined the PPA along with 45 other Congress MLAs after the Supreme Court on July 13 had restored the earlier Congress government headed by Chief Minister Nabam Tuki which was dismissed by then Governor of Arunachal Pradesh JP Rajkhowa in December 2015 paving the way for Kalikhu Pul to form government in the hill state with the support of 21 rebel Congress MLAs and with support of the BJP MLAs in February this year.