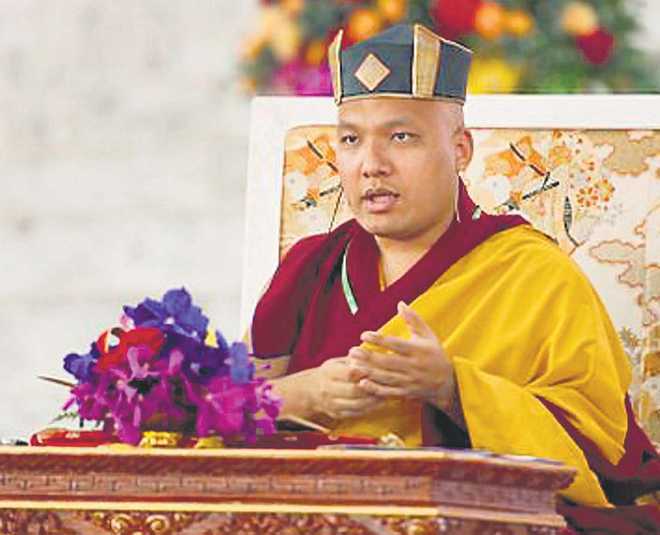 Mukesh Ranjan & Smita Sharma
Tribune News Service
New Delhi, September 10
Amid speculations of return of the 17th Karmapa Lama Ogyen Trinley Dorje to India from the United States later this year, sources have indicated to The Tribune "perceptible strategy change" by New Delhi.
Karmapa (33), head of the 900-year-old Karma Kagyu school of Tibetan Buddhism, has been in US for past one year citing health concerns which are 'not serious' claim Indian official sources. Officials in Ministry of Home Affairs (MHA) refuse to comment on the record on the issue. But sources claim that "China has formally placed a request with the US government for him to be handed over to it".
Speaking to The Tribune, officials also said that "India wants to bolster its claim as a cradle and home of Buddhist thought" with the Tibetan leader's presence in the country, "particularly in view of China's bid to woo the influential clergy with an eye on the post-Dalai Lama scenario".
A senior MHA official said, "Both the Dalai Lama and China recognise Ogyen Trinley Dorje as the 17th Karmapa. India for long recognised his rival, Thaye Trinley Dorje. In the post-Dalai Lama scenario, Thaye Trinley Dorje may not be of much help, as he not only publicly challenges the Dalai Lama's authority but, like China, he also does not accept the Dalai Lama as the supreme Tibetan leader."
According to sources, Karmapa over the past few months has signalled through various actions, including celebrations of the Dalai Lama's birthday, to sharing stage with representatives of Central Tibetan Administration as well as Chinese dissidents, that he is one with the Dalai Lama and Tibetan cause and remains popular with the diaspora.
The Karmapa who was living in a cramped accommodation in Dharamshala under intense scrutiny prior to traveling to US, is in discussions with the Indian government representatives for terms of his return, including better accommodation in national capital region and bridging of past mistrust issues with sections within intelligence community painting him as a "Chinese spy", say sources.
Since 2013, the Indian government like the Dalai Lama, allowed Karmapa Lama to freely move around the country, including visits to Sikkim. Last month speaking to the media, Karmapa signalled he would return to India by November this year. Officially, Amitabh Mathur, the adviser to MHA, is the interlocutor for Karmapa with a long-standing personal association with the Tibetan leader. Mathur who met the Karmapa as in June this year during a personal visit to America, with reportedly no official brief, told The Tribune recently, "He said he intends to return to India. And I have no reason to doubt him."
Top Stories