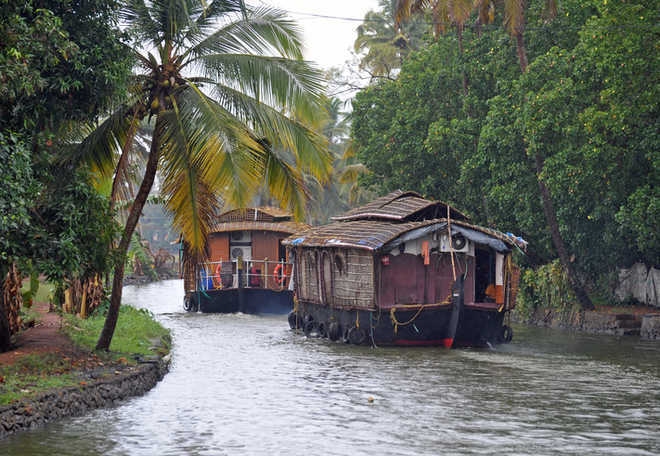 Vibha Sharma
Tribune News Service
New Delhi, June 5
As the southwest monsoon advances rapidly inside the Indian mainland, environment experts have sent alarm bells ringing over the levels of some of the reservoirs, especially in central India.
Himanshu Thakkar of Sandarp South Asia Network on Dams, Rivers and People says the water level in at least six reservoirs, especially in Bansagar and Rihand, is much higher than it should have been before the monsoon.
Fearing a repeat of the devastating floods in parts of Bihar and UP in 2016, he blames the poor management as the main reason behind the potentially dangerous situation again this year.
"Obviously, reservoirs' capacity is not being used properly. Dams come at a huge socio-economic cost. But while farmers and people are crying for water and rivers like the Ganga are in desperate need of rejuvenation, water levels in at least six reservoirs are currently much higher that what they should be ahead of the monsoon rain. It is nothing but poor management and building potential disaster.
Similar situation in Bansagar had led to massive floods in August 2016. The dam's reservoirs were close to their maximum for the first half of August.
Ideally, the authorities should have slowly released water ahead of the rains to make room for more.
"Why has water not been used? The dam is more than 45 per cent full whereas at this time its level should be much lower," says Thakkar.
Meanwhile, according to the IMD, the monsoon has further advanced into south interior Karnataka, Tamil Nadu, Puducherry, Rayalaseema, coastal Andhra Pradesh and the Bay of Bengal.
The Northern Limit of Monsoon (NLM) is currently passing through Shirali, Chitradurga, Arogyavaram, Sriharikota, Agartala, Lumding and north Lakhimpur.
Conditions are becoming favourable for its further advance into the central Arabian Sea, Karnataka and Rayalaseema, south Konkan, Goa, Telangana, coastal Andhra Pradesh and the central Bay of Bengal over the next 48 hours.
Conditions are also likely to become favourable for its further advance into Maharashtra, Telangana and coastal Andhra Pradesh in the subsequent 48 hours and into some parts of Gujarat, southern parts of Madhya Pradesh and Chhattisgarh, Odisha, West Bengal and Sikkim around the end of this week.
Top Stories