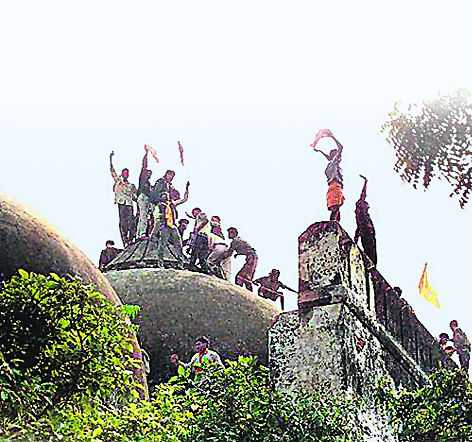 Vibha Sharma
Tribune News Service
New Delhi, October 17
Speaking in Maharashtra last month, Prime Minister Narendra Modi had slammed "loudmouths" making "meaningless" statements over the Ram temple, asking them to exercise caution and allow the Supreme Court to take a call on the issue.
His observations may have then been aimed at ally Shiv Sena and its chief Uddhav Thackaray, but as the dispute over the Ayodhya land title enters the final lap, sources say the BJP has asked party leaders to not make statements that may create "difficult situation" for the party, the government or local administrations.
"Exercise restraint", appears to be the bottom line in this. The News Broadcasting Standards Authority is believed to have also advised caution while reporting on the dispute and clearly the ruling BJP also wants its cadre to follow the same.
"We have no idea what the final verdict (of Supreme Court) is. We also do not know what the report of the mediation committee says. Therefore, it is best to keep calm and avoid making controversial statements," explains a party leader. The SC-appointed mediation panel to resolve the Ram Janmabhoomi-Babri Masjid land dispute in Ayodhya is believed to have filed a report in a sealed cover, calling a "settlement" between Hindu and Muslim parties, according to reports.
Even while Sangh affiliates like the VHP have been constantly clamouring for a temple through the legislative process, including an ordinance, the BJP leadership always spoke of a solution through courts. This was reiterated on several occasions by top BJP leaders, including PM Modi and party chief Amit Shah. "For any government, communal harmony and law and order is the top priority," the leaders say.
Around September, PM Modi while in Maharashtra for conclusion of Chief Minister Devendra Fadnavis' 'Maha Janadesh Yatra', was quoted as saying: "We should have faith in the Supreme Court, have faith in the Constitution given by Ambedkar, in the judiciary, to all these loudmouths who keep giving statements, I fold my hands and for God's sake and for Lord Ram's sake keep the faith in the country's judicial process." He did not name anyone but the remarks appeared to have been aimed at the Sena whose chief Uddhav Thackeray was leading on the issue.
Top Stories