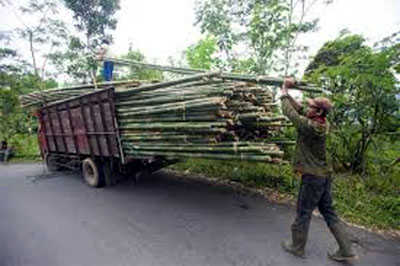 New Delhi, November 23
President Ram Nath Kovind today cleared an ordinance amending the Indian Forest Act, omitting bamboo grown on non-forest areas from the definition of a "tree". This would help in exempting it from requiring permits for felling or transportation. Before the ordinance was issued, the definition of "tree" under the Act included palm, bamboo, brushwood and cane.
The brief ordinance, aimed at increasing bamboo plantations, states that clause seven in Section 2 of the Act will omit the word "bamboo".
(Follow The Tribune on Facebook; and Twitter @thetribunechd)
"The government, in a landmark initiative, has promulgated the Indian Forest (Amendment) Ordinance 2017 to exempt bamboo grown over non-forest areas from the definition of tree, thereby dispensing with the requirement of felling or transit permit for its economic use," Environment Minister Harsh Vardhan said.
Though taxonomically a grass, bamboo was legally defined as a "tree" under the Indian Forest Act, 1927. Before this amendment, the felling and transit of bamboo grown on forest as well as non-forest land attracted provisions of the Act. "This was a major impediment for cultivation," a statement said.
Bamboo grows abundantly in areas outside forests with an estimated growing stock of 10.20 million tonne. About 20 million people are involved in bamboo-related activities.
One tonne of bamboo provides 350 man-days of employment, the government said, adding the bamboo demand in India is estimated at 28 million tonne. Though India has 19 per cent share of world's area under bamboo cultivation, its market share is only 6 per cent. At present, India imports timber and allied products such as pulp, paper and furniture and the amendment will help in addressing the issues. — TNS/PTI