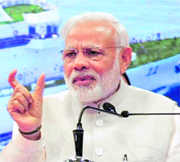 Vibha Sharma
Tribune News Service
New Delhi, November 13
Prime Minister Narendra Modi today made an impassioned plea for 50 days' cooperation in his attempt to make India corruption-free.
Empathising with the "honest" common people on hardships they were facing following his demonetisation move, he almost choked up while talking about the "sacrifices" he made for the country.
However, his emotionally surcharged speech and stern warnings to the "corrupt" at Goa and Belgaum failed to impress the Opposition.
Congress vice-president Rahul Gandhi, whose party Modi appeared to be targeting when he talked of eradicating "70 years of corruption", tweeted: "First laughter now tears! Mediocrity comes face to face with reality."
Taking on the Congress directly, Modi said: "I know what kind of powers I have taken on. I know the kind of people who will be against me now. I am looting what they had accumulated over 70 years."
He also warned of more action against the corrupt, including those holding "benami" money and property. "I have more projects in mind to make India corruption-free. Cooperate with me and help me for 50 days and I will give you the India you desired," the PM said in Goa.
In Belgaum, he said his "government would not spare the guilty. There is pain but what is more important is the gain for the country".
The PM's primary aim was to reach out to people and assuage some of the growing impatience due to the fallout of his decision to demonetise Rs 500 and Rs 1,000 notes. "Yes, I also feel the pain. These steps taken were not a display of arrogance. I have seen poverty and understand people's problems. I was not born to sit on a chair of high office," he said.
"Whatever I had, my family, my home... I left all of it for the nation," he said, choking up. "I know they are against me. They may not let me live. They may finish me because their loot of 70 years is in trouble. But I am prepared," he declared.
---

New Rs 500 note at SBI head office in New Delhi on Sunday. PTI
New Delhi: The Centre on Sunday night raised the Rs 1,000 and Rs 500 note exchange limit at bank counters to Rs 4,500 from Rs 4,000 and withdrawal at ATMs to Rs 2,500 from Rs 2,000.
Now, Rs 24,000 per week can be withdrawan from banks, up from Rs 20,000 and the daily withdrawal limit of Rs10,000 has been removed.
The Ministry of Finance also advised banks to increase the Business Correspondents' limit to Rs 2,500 for withdrawal from accounts.
The Centre had initially placed a cap on ATM withdrawal at Rs 2,000, from accounts at Rs 10,000 per day with a weekly limit of Rs 20,000 and exchange of currency at Rs 4,000,
Banks have been advised to make arrangements for separate queues for senior citizens and Divyang persons. The last date of submission of annual life certificate for government pensioners has also been extended to January 15, 2017 instead of November-end.
Separate queues will also be arranged for exchange of cash-to-cash transactions.
Banks have been advised to increase the issuance of mobile wallets and debit or credit cards as also to provide them to those not having access. On reports that hospitals, caterers, tent houses and others are not accepting cheques, demand drafts or online payment, the government advised the people to complain to the District Magistrate or authorities concerned in this regard. — TNS
Top News
Both Houses adjourned for the day amid uproar over Adani iss...
Adani Group company stocks have lost over US$ 90 billion in ...
Total losses in stocks of 7 listed Adani group companies hit...
DGP said Arif was being handled by a Pak-based LeT terrorist...
US Embassy said such requests would not be entertained throu...