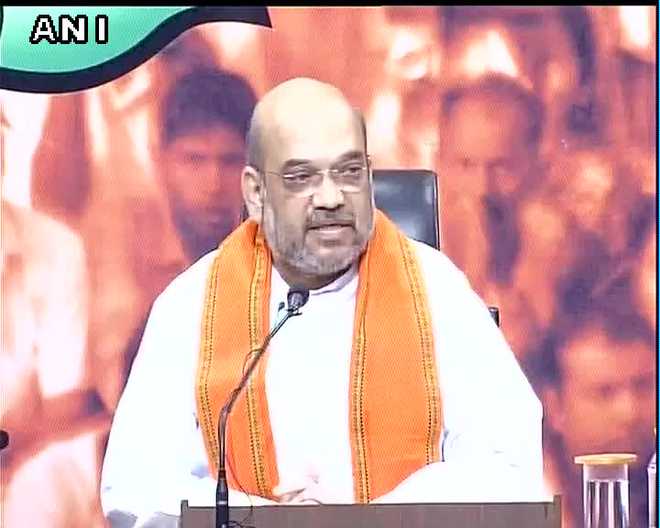 Vibha Sharma
Tribune News Service
New Delhi, February 27

The BJP leadership is believed to be working on a unique strategy to beat anti-incumbency and underlying anger at the grassroots level, especially the farming community, in three poll-bound states it currently holds--Madhya Pradesh, Chhattisgarh and Rajasthan.
Apparently, apart from considering changing a major chunk of sitting MLAs, as many as "50 to 60", according to sources, the party is also considering fielding several of its sitting MPs from the states in the crucial elections preceding the 2019 Lok Sabha polls.
The strategy, party managers believe, can have several interesting fallouts. While the BJP would manage to stem some amount of anger against sitting MLAs it would also be able to project fresh faces in the Lok Sabha polls from the states.
(Follow The Tribune on Facebook; and Twitter @thetribunechd)
Apparently, the need for a radical strategy is fuelled by the Congress's recent political gains, especially in Gujarat which the BJP managed to save by a whisker, almost.
Though party leaders claim that the BJP is in a winning position in all three states, the fact of the matter is that the Congress's impressive performance in the Lok Sabha/Assembly bypolls and civic body elections is also a cause for worry.
The Assembly polls in the three states are due at the year-end and the emerging ground reports at this stage are not so conducive to the saffron party. Despite their "personal popularity with people" Shivraj Singh Chouhan (Madhya Pradesh) and Raman Singh (Chhattisgarh) face anti-incumbency.
In top chair since 2003, Chouhan will contest his fourth consecutive term and also, his Chhattisgarh counterpart Raman Singh. They are also said to be facing discontent from within with some sitting MLAs, including top ministers, crying foul over many issues.
Chouhan has an added problem in the form of simmering anger in the all-important farming community in the state. Many of his popular schemes are not having the desired effect on the ground, claim sources.
So far as the choice of the CM is concerned, the BJP doesn't have many choices. Despite being besieged with the problem of discontent against the CMs, including in case of Rajasthan and Vasundhra Raje, the BJP is bound by the stated commitment of contesting the Assembly polls under the incumbent CMs in states where it is in power.
In those terms also, the rival Congress, which seems to have decided not to project anyone as CM, seems to be in an advantageous position.
In Rajasthan that traditionally opts for a change every five years, Chief Minister Raje is banking on the BJP's organisational strength, social engineering and caste consolidation to pull her through for a second term in 2018.
For the BJP winning MP is important given that it is the bastion of its ideological fountainhead, the RSS.