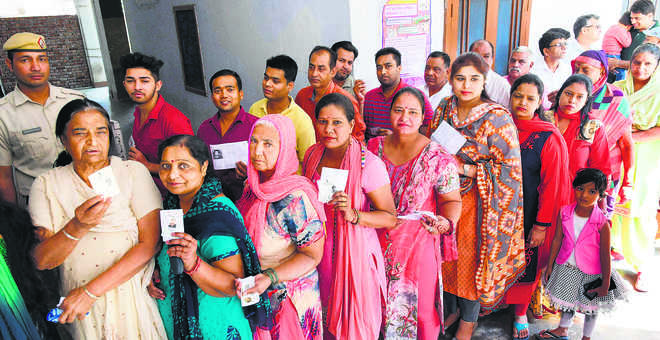 Sushil Manav
Tribune News Service
Chandigarh, October 21
The BJP in Haryana seems headed for a landslide victory with various exit polls, on an average, giving the party 66 of the total 90 seats for which elections were held today. Around 66 per cent polling was witnessed across the state. Counting will take place on October 24.
The exit polls gave the Congress 14, INLD-SAD two and others — Dushyant Chautala's JJP, BSP, Independents and smaller parties — eight seats.
In the past few decades, no government has been able to retain power in Haryana for the second time with absolute majority. Bhupinder Singh Hooda-led the Congress to a second win in 2009, but with only 40 seats. He had to take the help of Independents to form government. The exit polls predict 198-222 seats for the BJP in 288-member Maharashtra House.
In Haryana's urban constituencies, polling began at 7 am on a sedate note while rural seats saw brisk polling, which was largely peaceful, barring a violent incident in Nuh, officials said. Tohana, where state BJP chief Subhash Barala is locked in a keen contest with JJP's Devender Babli, saw a record 80.56 per cent polling, while the lowest poll percentage of 45 was witnessed in Panipat Urban, followed by 49.3 per cent at Karnal, where Chief Minister ML Khattar is in fray.
In the 2014 Assembly elections, 76.54 per cent voters had exercised franchise, while in the recent Lok Sabha elections, the percentage was 70.36.
Chief Electoral Officer Anurag Agarwal said 65.67 per cent turnout had been recorded by 7 pm, but the figure could change as reports were still pouring in. The final figure would be available when the data was tabulated, he said. A total of 1,169 candidates of various political parties are in the fray. Of them, 105 are women. CM Khattar, former CM Hooda, INLD's Abhay Singh Chautala and JJP's Dushyant are among those in the reckoning. While Khattar took the Jan Shatabdi from Chandigarh to cast his vote in Karnal, where he rode a bicycle to the polling booth, Dushyant drove a tractor to the polling booth in Sirsa. Hooda and his family cast their vote in Rohtak after offering prayers in a temple. In Karnal, Khattar claimed the BJP would win more than 75 seats, while Hooda in Rohtak claimed the Congress would make a comeback with comfortable majority.
The BJP has fielded three sportspersons — Babita Phogat (Dadri), Yogeshwar Dutt (Baroda in Sonepat) and Sandeep Singh (Pehowa) — besides TikTok star Sonali Phogat from Adampur. Several members of the families of the three 'Lals' — Devi Lal, Bansi Lal and Bhajan Lal — are also in the fray. Devi Lal's grandson Abhay Singh Chautala is fighting as an INLD candidate from Ellenabad, while another grandson Aditya Devi Lal is the BJP nominee from Dabwali. Devi Lal's great grandson Dushyant Chautala (Uchana Kalan) and granddaughter-in-law Naina Chautala (Badhra) are fighting as JJP nominees. Bansi Lal's daughter-in-law Kiran Choudhary (Tosham), son-in-law Somvir Singh (Loharu) and son Ranbir Mahendra (Badhra) are contesting on Congress ticket, while Bhajan Lal's sons Kuldeep Bishnoi (Adampur) and Chander Mohan (Panchkula) too are Congress' candidates.
Top Stories