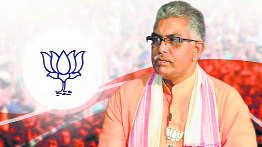 Shubhadeep Choudhury
Tribune News Service
Kolkata, October 10
The BJP has reacted strongly to the murder of a RSS worker and wife and child in West Bengal's Muslim majority Murshidabad district.
The bodies of Rashtriya Swayamsevak Sangh (RSS) worker Prakash Pal (35), his wife Beauty (30) and their son Angan (8) were found on Tuesday afternoon. While the two adults were hacked to death, the child was strangulated with a scarf.
Pal was last seen around 11 am on Tuesday when he was returning from market. Their absence at the Vijayadashami celebrations alerted neighbours. Some of them went to their home and discovered the tragedy.
BJP spokesperson Sambit Patra posted a video of the house where the mutilated bodies of Pal family members were lying in a pool of blood. Patra wrote, "RSS worker Prakash Pal, his eight months' pregnant wife & his kid were brutally slaughtered in West Bengal. Not a word by the liberals. Not a letter by 59 liberals to Mamata. Nauseating selectivism."
Kailash Vijayvargiya, BJP general secretary and in-charge of the West Bengal unit of the party, also expressed concern about the incident. "What can be more terrible than this incident? Vijayvargiya tweeted while posting a picture of the Pal family taken in happier times.
Abu Taher Khan, TMC MP from Murshidabad, however, ruled out that the murder had anything to do with Pal's association with the RSS. He claimed that Pal, who had shifted to the area to work as a primary school teacher, was hardly known in locality. "There cannot be a communal angle in the murders because the family lived in a Hindu neighbourhood only," Khan said and added that the police were exploring various angle, including feud over property, behind the murders.
"We have registered a murder case and working to establish the motive of the murders. We are talking with the relatives of the deceased and other persons known to them," Barun Baidya, sub-divisional police officer, who is investigating the case, said.
Top Stories
After bhoomi pujan in Ayodhya, Bhagwat says have fulfilled r...