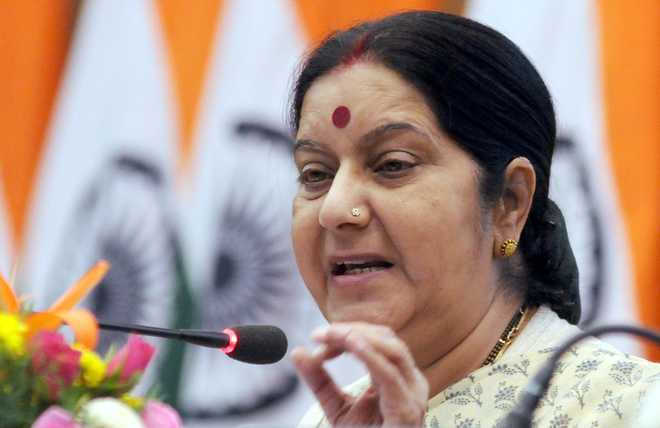 United Nations, September 28
The members of the BRICS grouping should speak with a stronger voice and not be divided among themselves on the critical issue of achieving the long-pending UN Security Council reform, External Affairs Minister Sushma Swaraj has said.
Addressing the BRICS Foreign Ministers' Meeting here on Thursday, held on the margins of the 73rd session of the UN General Assembly, Swaraj said the five-member grouping of Brazil, Russia, India, China and South Africa was started a decade ago to change the status quo in international organisations and correct distortions in multilateralism.
A decade later, the call for multilateralism could not and should not be for reinforcing this status quo but rather to change it, she said.
"At a broader level, we need to develop greater understanding and convergence on issues of mutual concern in the coming years, if BRICS has to emerge stronger," Swaraj said.
Referring to Prime Minister Narendra Modi's call for "reformed multilateralism", Swaraj said the most significant unfinished agenda was the reform of the UN Security Council.
"The discussions on the UNSC reform cannot be an exercise in perpetuity, while the legitimacy and credibility of the Security Council continues to get eroded. We in BRICS should speak with a stronger voice rather than be divided amongst ourselves on this critical area of international governance," she said.
With BRICS leaders giving a robust mandate on counter-terrorism, Swaraj said there was a call for a BRICS Counter-Terrorism Strategy for joint action with a focus on money-laundering, terrorist-finance, cyberspace and de-radicalisation. PTI
Top News
The CBI has registered an FIR in connection with alleged irr...
Says CBI raid reward for good performance
Canada is one of the popular destinations for Indian student...
While youngsters are proud of their PM's wild side, the vide...
Pyongyang is subject to tough international sanctions becaus...