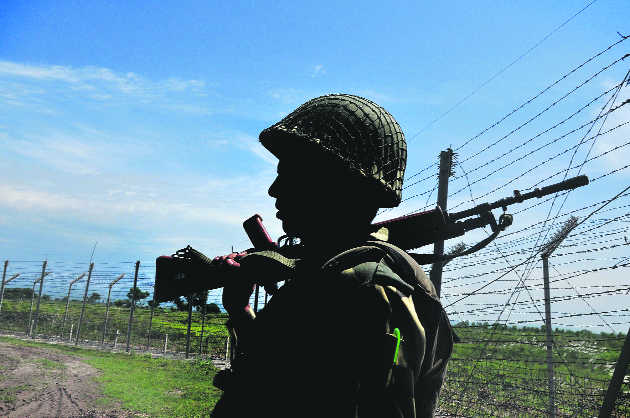 Vijay Mohan
Tribune News Service
Chandigarh, February 13
As increasing hostile activity along the international border continue to be a cause of concern, the Border Security Force (BSF) has set its sights on acquiring eight tethered unmanned aerial vehicles (UAVs) and as many ground surveillance radars (GSRs) to bolster its capability for maintaining constant vigil.
Tethered UAVs, unlike their conventional rotor wing multi-copter counterparts, are connected to a ground control station with a cable for continued power supply as well as exchange of command and data. It is akin to having sensors atop a very high mast. Though their mobility and the area of surveillance is restricted, such machines have greater flight endurance and can stay aloft for hours.
"The trial directives for the equipment were finalised by the Ministry of Home Affairs recently and the tendering process for the same has been initiated this month," a BSF officer said. "Initially, eight each of UAVs and GSRs are being acquired, with the possibility of additional procurement," he added.
The BSF's requirement stipulates that the UAVs should be able to hover at a height of 60 metres or more and equipped with cameras and thermal imagers that should be able to detect a human size target at distances above 600 metres by day and 300 meters by night and live stream the video data.
As far as the GSRs are concerned, these would be used to detect and identify movement of humans, animals and boats in the vicinity of the border. There are large riverine stretches where the Ravi and the Sutlej criss-cross the border. The BSF wants radars that can detect humans at a distance of 1 km and a 12-ft-long boat at 2 km.
The procurement of UAVs and GSRs is part of an overall plan of the BSF to upgrade its surveillance capability along the international border. Besides the international borders with Pakistan and Bangladesh, several BSF battalions are deployed on the Line of Control from Akhnoor to Kargil. Over the past couple of years, the international border in the Jammu sector, which is the peacetime responsibility of the BSF, has witnessed heavy ceasefire violations.
Top Stories