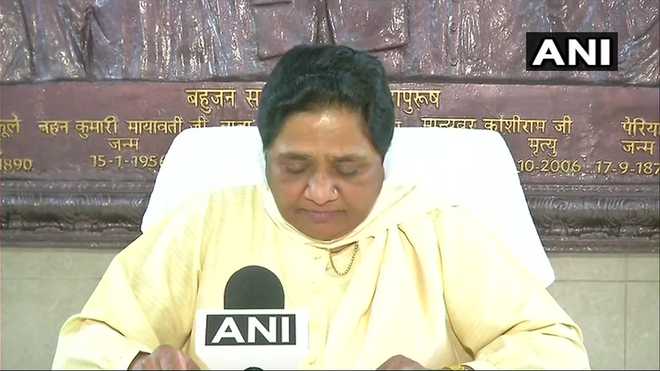 Lucknow, April 2
Bahujan Samaj Party (BSP) chief Mayawati on Monday extended support to the protest against the dilution of the Scheduled Castes and Scheduled Tribes (Prevention of Atrocities) Act by the Supreme Court.
She, however, condemned the violence taking place during the protest and said that strict action should be taken against the one indulged in it.
"I support the protest against the SC/ST Act. I have got to know that some people are spreading violence during the protests, I strongly condemn it. Our party is not behind the violence during the protests," she said while interacting with the media.
"Strict action should be taken against those who spread violence during the protests," she said.
Even as the Centre has filed a review petition in the top court, outrage over the review in the Act made by the Supreme Court has engulfed numerous parts of the country, as various states, including Punjab, Odisha, Uttar Pradesh, and Rajasthan, are witnessing border-line riots with protesters taking to destruction of private and public property to send their message of disapproval to legislature and judiciary.
Various Dalit organisations had called for a nation-wide shutdown or a 'Bharat Bandh' to protest against the ruling.
The apex court had, on March 20, introduced the provision of anticipatory bail in the act while directing that there would be no automatic arrest on any complaint filed under the law. ANI
Top News
Abdul Rauf Azhar, born in 1974 in Pakistan, was sanctioned b...
The attack comes days ahead of the celebration of the 75th I...
The former West Bengal governor had recently defeated opposi...
Gandhi's attack comes a day after Modi lashes out at the Con...