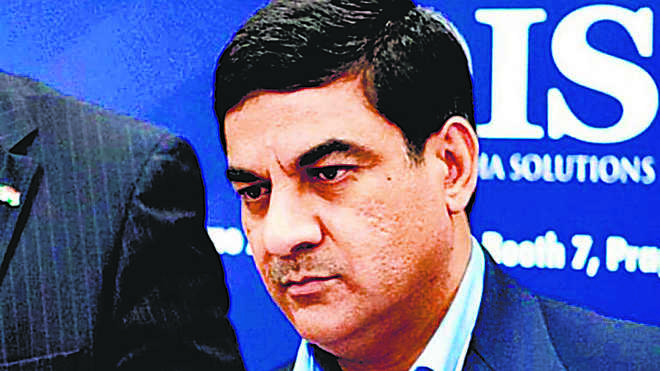 Tribune News Service
New Delhi, June 22
The Central Bureau of Investigation (CBI) has registered an FIR against arms dealer Sanjay Bhandari, Swiss-based Pilatus Aircraft Ltd and others over alleged corruption in the Rs 2,895-crore deal to acquire 75 basic trainer aircraft for the Indian Air Force in 2009.
The others booked include unidentified officials of the IAF and Defence Ministry. It is alleged that kickbacks worth Rs 339 crore were paid to clinch the deal for Pilatus-PC 7.
After registering the FIR, the agency carried out searches at nine locations in Delhi-NCR, including the residence and office of Bhandari and Pilatus, officials said.
Bhandari is already being investigated for allegedly buying benami properties for Congress president Rahul Gandhi's brother-in-law Robert Vadra in London.
Vadra has not been named in the FIR but the Enforcement Directorate (ED) has questioned him in the past in connection with the deal while investigating the London properties case. The investigation agencies maintain the kickbacks were used to buy the benami properties.
The action comes on the basis of the agency's three-year-old inquiry, which showed a prima facie case of corruption against the accused. The Swiss company was one of the bidders for the contract floated in 2009, they said.
The CBI has alleged that the firm had entered into a criminal conspiracy with Bhandari and Bimal Sareen, both directors of Offset India Solutions Private Limited, and dishonestly and fraudulently signed a service provider agreement with Bhandari in June 2010, which was in violation of the Defence Procurement Procedure, 2008.
The Defence Ministry deliberately concealed the facts about the service provider agreement with Bhandari, the agency alleged.
It is suspected that the amount was allegedly paid to influence officials of the IAF, MoD and Government of India associated with the procurement, officials said.
The email correspondence between Bhandari, his London-based relative Summit Chadha, Manoj Arora and Vadra showed the latter (Vadra) had shown keen interest in a London property and was interested in knowing all about the renovation work that was being carried out.
The ED had earlier informed the court about properties whose beneficial owner was Vadra. These included two houses in London worth £5 million and £4 million, respectively, and six flats. (With agency inputs)
Top News
Aman Arora, Dr Inderbir Singh Nijjar, Fauja Singh, Chetan Si...
Video celebrating the murder emerged after phone of youngest...
Delhi Police teams followed them through 6 states including ...
In one of the photos recovered by Delhi police, Sirsa is see...
Appointment comes after state DGP VK Bhawra proceeded on two...