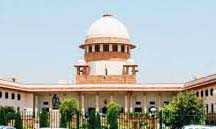 Satya Prakash
Tribune News Service
New Delhi, June 7
The controversy surrounding the Centre's notification banning sale and purchase of cattle from animal markets for slaughter reached the Supreme Court on Wednesday, with a Hyderabad-based lawyer challenging its validity.
(Follow The Tribune on Facebook; and Twitter @thetribunechd)
Advocate Mohammed Abdul Faheem Qureshi — who is also president of All India Jamiatul Quresh Action Committee — challenged the Centre's May 25 notification contending it was "discriminatory" and "unconstitutional" as it prevented cattle traders from earning their livelihood. He said slaughtering of animals for food and sacrifice was part of the cultural identity of certain communities and it was protected by law.
Qureshi — who works with butchers and cattle traders — contended the order violated the law on prevention of cruelty to animals, which allowed sacrifice of cattle for religious purposes. The ban on trade in animals younger than six months and reselling of cattle within six months impinged trade, he said, adding right to life to included right to livelihood and trade. Farmers can't be forced to take care of an animal for six months and maintaining it better than his family members, he submitted.
The Supreme Court will take up the PIL for hearing on June 15.
Prime Minister Narendra Modi government's controversial notification bans sale of cattle, including cows, for slaughter and restricts cattle trade to farm owners. Those opposed to the order say it will adversely affect poor farmers and hit cattle supplies to the meat industry estimated to be worth Rs 1 lakh-crore.
Cows are worshipped by millions of Hindus and Article 48 — which falls in the chapter on Directive Principles of State Policy of the Constitution — mandates the State to prohibit the slaughter of cows and calves and other milch and draught cattle.
Cow slaughter is banned in most states, except Kerala and northeastern states where beef consumption is quite common. Many states have opposed the Centre's notification order saying that the Centre can't dictate food habits.
The Centre said its notification was based on a Supreme Court order to prevent cow smuggling across the border. Based on Section 38 of the Prevention of Cruelty to Animals Act, 1960, the new rules aimed to regulate livestock market and restrict trade in livestock only to animals bought for "agricultural purposes".
It meant that animals for slaughter had to be bought directly from farms, making it difficult to procure livestock for slaughter as besides the legal hurdles, livestock traders also had to face cow vigilante groups, which have lynched several people in the recent past.
Top News
93 MLAs vote in favour of motion
The China-bound Mahan Air flight is now out of the Indian ai...
The Indian High Commission is on its toes after the Sikhs fo...
Video goes viral on social media
CIA Incharge Pritpal Singh sent to four-day police remand; I...