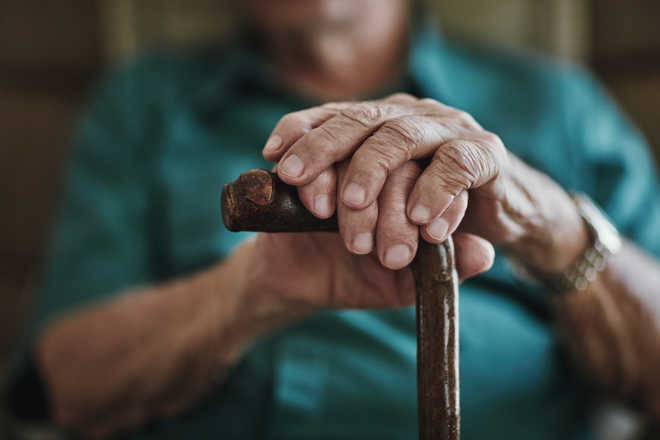 Ananya Panda
Tribune News Service
New Delhi, September 29
India may boast of being one of the fastest growing economies, but its coffers ironically become empty when it comes to providing a "dignified social security and living" to its elderly.
A pittance Rs 200 and Rs 500— stagnant for over 11 years now— is the Central Government's share in the Indira Gandhi Old Age National Social Assistance Programme (NSAP) for those eligible (BPL criterion) in category 60-79 years and 80 years/above respectively.
On the pretext of fiscal unavailability, India has continuously shied away from its responsibility of taking care of ageing population with almost six crore old people currently slipping out from the social protection cover in the country, reveals a new report on the state of pensions in India.
To protest against this apathy, over 10 thousand elderly and activists from across the country are gathering under the banner of Pension Parishad for a two day-rally starting tomorrow to press for making pension universal and raising the amount to at least half of the minimum wages—Rs 2,500— or whichever is more indexing it with inflation.
"They will march towards Parliament Street from Mandi House and on October 1—World Elders' Day— a public meeting will be organised at Parliament Street where leaders cutting across the political parties are expected to join to express solidarity to our demands of universal and dignified pension," said Nikhil Dey of Pension Parishad.
State of Pensions in India: Report 2018— released ahead of the rally by Pension Parishad in partnership with HelpAge India— points out at this disturbing lack of political will and neglect by the Centre while showing a wide regional variation in monthly entitlements, ranging from highest Rs 2000 to as low as Rs 200 in Manipur.
The NSAP, which began as a centrally-sponsored scheme, was envisaged to have entitlements contributed equally by the Central and the state governments.
Goa and Haryana fare well among the states and union territories when parameters of coverage and amount of monthly pensions given to old people are taken together, as per there report.
Goa gives a monthly Rs 2,000 each to around 1,16,000 old age pension beneficiaries—71 per cent of its total 1,63,000 aged population as per 2011 census—while Haryana provides Rs 1800 pension assistance to 72 per cent (1,57,9720) of its total 2,19,4000 elderly.
Kerala, Delhi, Puducherry and Andaman & Nicobar Islands are four others that provide a decent Rs 2000 pension to 21,59,513 old people (52 per cent), 4,29,706 (37 per cent), 38,177 (32 per cent) and 4420 (18 per cent) respectively though with less satisfactory coverage of the NSAP.
Nine others—Chandigarh, Andhra Pradesh, Dadra & Nagar Haveli, Daman & Diu, Jammu & Kashmir, Lakshadweep, Sikkim, Tamil Nadu and Telengana— have fixed Rs 1000 as old age pension with majority elderly missing out except for Dadra & Nagar Haveli that scores 69 per cent pension coverage and 40 per cent and 41 per cent elderly availing it in Daman & Diu and Sikkim respectively.
Arunachal Pradesh gives Rs 1700 to the old pensioners, but the number of the beneficiaries paints a grim picture. Around 15 states, including Gujarat, Bihar, Odisha, Manipur, Chattisgarh, Madhya Pradesh, Maharashtra, Uttar Pradesh, are giving a paltry less than Rs 500 to their elderly.
Rajasthan is commendable in coverage with 98 per cent of the elderly being given pensions though Rs 500 a month, while Bihar fares good in having 58 per cent of its elderly under the social security net. Punjab gives Rs 750 but to only four per cent of its elderly.
Former member Planning Commission Syeda Hameed terms the measly entitlement of Rs 200 "a ringing shame" adding, "The government's callousness goes on since years and our elders continue to be given a humiliating Rs 200. We must remember everyone is headed to the road of elderhood. We must raise voice so that it reaches the deaf ears of the government."
She says the plight of those who are challenged in some way further aggravates.
"India worse than third world"
India is worse than the third world countries and smaller economies, including Nepal, Bolivia, Botswana, Ecuador and Lesotho, shows a comparison of the social pensions for the aged.
Currently, the Central Government spends as little as Rs 6,564 crores or 0.04 per cent of the GDP for pensions under the NSAP.
Noted economist Prof Prabhat Patnaik describes it as "scandalous state of affairs not because the sum is laughably paltry alone but the list of beneficiary is absurdly truncated and the elementary protection against inflation is missing".
"Pension should be made universal and non-contributory. It is a rightful violation of the Constitution. Adequate old age pension is a right, an economic right and the government can easily afford universal pension for the elderly that will cost not more than two per cent of the GDP," observed Prof Patnaik.
Prof Patnaik suggests introducing either a currency transaction tax of 0.1 per cent or wealth tax of 0.8 per cent on top one per cent of households in India to be enough for financing the universal pension.
"A conservative estimation shows private wealth amounts to four times the GDP and considering that the top one per cent of households in India owns 62 per cent of the total private wealth.... However, the reason it is not being done is due to the feudal mindset that treats pension as alms and not as a basic right," asserts the retired JNU professor.
Chief Executive Officer of HelpAge India, Mathew Cherian, says, "We have to give some dignity to our elderly. With less than one-third of the elderly in India covered under the old age social pension schemes and less than 8 per cent of the elderly in India being employed in the formal job-sector and securing any pension, the plight of around 93 per cent people employed in unorganised sector is grossly unjust to say the least as they have contributed a large part to the country's GDP."
India being a 3.1 trillion dollar economy will have to spend about 1.97 per cent of the GDP for universal pension, he states adding that in 2050, 25 per cent of the population in India would comprise elderly, exceeding China.
Further, the report itself says it will cost only about 1.6 per cent of the present GDP to ensure near 90 per cent of total elderly in the country get a pension of Rs 2,500 monthly.