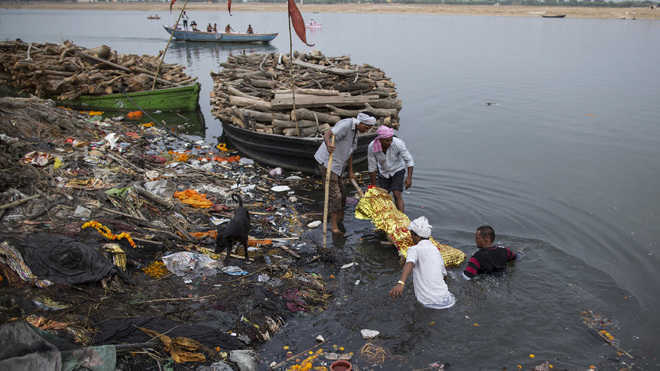 Ravi S Singh
Tribune News Service
New Delhi, June 5
Manifesting the significance it attaches to West Bengal where the ruling TMC and the BJP are engaged in a fierce struggle for domination of the political landscape, the Union Jal Shakti Ministry on Wednesday cleared major projects under Clean Ganga drive for the state.
Showing urgency, the ministry's National Mission for Clean Ganga (NMCG) in its first commitment post the just concluded Lok Sabha elections signed a tripartite-agreement to set up sewage infrastructure projects worth Rs 592 crores in Kolkata.
Minister Gajendra Singh Shekhawat presided the signing of the agreement between NMCG, Kolkta Corporation and the private firm entrusted to implement the projects.
The broad impression is that the saffron party has already embarked on micro-planning for the next assembly election in West Bengal slated for early 2021.
The projects include new sewage treatment plants (STPs) in Howrah and Bally — located in Howrah parliamentary constituency and Baranagar and Kamarhati, parts of Dum Dum constituency. Both the constituencies are part of the Greater Kolkata region.
The remit of the agreement also include boosting of the existing projects.
The projects' implementation will be under the concept of one city one operator by integrating the development of new STPs with the existing treatment infrastructure in the city/town under Hybrid Annuity based PPP model.
"This approach will ensure singular accountability and ownership for sewage treatment for the entire city to one operator and help in achieving objective of preventing untreated waste water entering the river," said the ministry.
Under this arrangement, the existing infrastructure are rehabilitated and operated along with the new STPs for a period of 15 years under HAM. The approach is billed to be paradigm shift in the sector with one stop solution for sewage treatment for the city.
TMC won from both the constituencies, but the BJP put up a strong contest.
The saffron party won 18 seats from other parts of the state, but the seats in Kolkata region comprising of nine seats, including Howrah and Dum Dum, turned out to be its weak-link in the Lok Sabha election.
The BJP had targeted to win in Howrah and Dum Dum which hold symbolic and political significance. They account for more than 15 assembly segments.
Before the election, BJP president Amit Shah had said his party aimed to win 23 out of the total of 42 seats in the state.