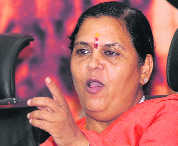 Ravi S Singh
Tribune News Service
New Delhi, March 1
While the BJP government in Haryana has gone to town claiming discovery of the mythical Saraswati river, the Centre is hedging its bet on it, at least for now.
Union Minister for Water Resources Uma Bharti today said a "task force", headed by Padma Bhushan awardee Dr Kharag Singh Valdiya and comprising water experts and historians, will look into the veracity of the claim.
"The ministry will think further about the river only after its veracity was found," Bharti said.
On whether the Centre will provide help to revive the river, she said it needed to be established whether it was Saraswati. The task force has been asked to ascertain the veracity of the claims of discovery of Saraswati in Haryana and Rajasthan. Traces of underground water flow were found in a Yamunanagar village.
---
"Yes, underground water of a river has been found. But it has to be established whether the river was indeed Saraswati" - Uma Bharti, Union Minister
Top News
Asks not to spread fake news amid reports of her distancing ...
'US-India partnership is a cornerstone for a free and open I...
Rehana Fathima, a woman's right activist, was facing charges...
On August 3, 1991, Congress leader and brother of former MLA...
Injured admitted to hospital in Imphal where their condition...