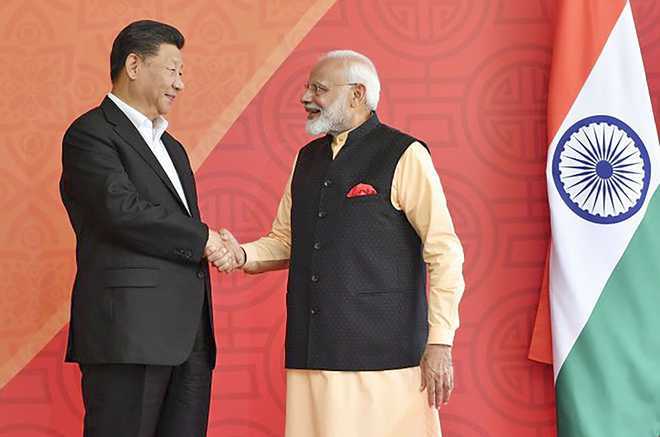 Tribune News Service
New Delhi, October 13
Chinese President Xi Jinping has listed six proposals to realise a scenario where the "dragon and the elephant dance" together. The Chinese Foreign Ministry quoted Xi as suggesting a 100-year plan to rejuvenate ties between the two countries during which differences should not "dim the overall situation of bilateral cooperation''.
Xi's approach of a gradual and incremental approach in mending bilateral ties was evident from his first suggestion to "correctly view each other's development and enhance strategic mutual trust." The path, he emphasised, lay through "gradually" improving understanding.
EDIT: The Mamallapuram summit
"We must hold the rudder and steer the course of China-India relations, map out a 100-year plan for the relations from a strategic and long-term perspective, inject a strong endogenous impetus into bilateral relations, and work together to realise the great rejuvenation of our two great civilisations," he said.
Second, Xi urged "timely and effective strategic communication" to dispel suspicion and doubt, and properly handle differences and sensitive issues. Once again indicating that the turnaround will not be instantaneous, he said both countries should properly manage and control problems that cannot be resolved at the moment.
Third, the two countries should "effectively improve" exchanges of military and security personnel to dispel doubts. Xi's fourth stress was on "pragmatic cooperation and tight ties of interests" by a high-level economic and trade dialogue mechanism headed on the Indian side by Union Finance Minister Nirmala Sitharaman. This mechanism would discuss joint manufacturing and alignment of economic development strategies with Xi making a special mention of Indian pharmaceutical and information technology companies being recently given a greater business latitude in China.
The fifth was greater people-to-people ties, an aspect mentioned in detail during separate briefings at Mamallapuram by Foreign Secretary Vijay Gokhale and Chinese Vice-Foreign Minister Luo Zhaohui.
The sixth aspect, in international and regional affairs, was discussed in detail by Xi and Modi on the second day of their summit. Xi wanted both to uphold the salient role of the UN and WTO, besides coordinating better at G20, BRICS, SCO and RIC.