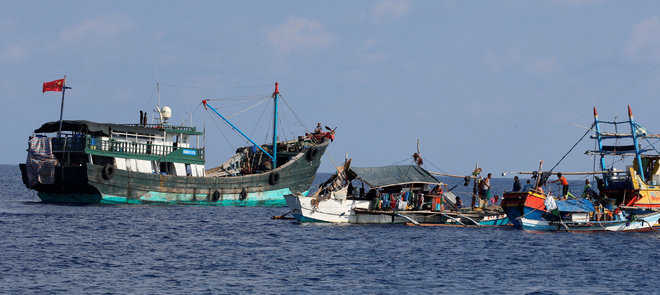 Ajay Banerjee
Tribune News Service
New Delhi, September 8
In June, as Cyclone 'Vayu' headed towards the west coast of India, 10 Chinese fishing trawlers sought "emergency shelter" at Ratnagiri in Maharashtra. Two of these trawlers were taken to Dhabol by the Coast Guard and their equipment checked. Some 200 of the crew members were also questioned. Nothing incriminating was found on the trawlers.
For Indian security agencies, which monitor the seas, some 500 Chinese fishing trawlers are noticed annually in the Arabian Sea, sometimes very close to the international sea lanes of communication (SLOC), demarcated areas in sea through which trade, cargo, crude oil and gas tankers ply.
Indian Coast Guard got a chance to check these vessels as they had sought shelter. However, hundreds of trawlers cannot be physically checked as they remain outside the Indian exclusive economic zone (EEZ) — coastal waters where a country can claim exclusive rights for fishing and other economic activities. The EEZ limit is 200 nautical miles (370 km) from coast.
If found fishing in Indian EEZ, Chinese fishing vessels attract action under the Maritime Zones of India (Regulation) of Fishing by Foreign Vessels Act, 1981. Once outside the EEZ, the trawlers are in international waters which are globally open for anyone to fish or explore.
"Some of them could be genuine fishermen, but the question is what are they doing thousands of miles away from China? Is it just fishing?" said an official who is in know of the matters.
Security agencies are keeping a tab on these fishing trawlers as not only they could be carrying survey and snooping equipments, they could also get hijacked by terrorists to use the sea route like it happened when 10 Pakistani terrorists hijacked a fishing vessel, Kuber, to a launch an attack on Mumbai in November 2008, killing 166 persons.
In the past few years, there have been reports of Chinese fishing trawlers behaving like a militia in the contested waters of the South China Sea. In April this year, one of the senior most US Navy commanders warned China that hostile behaviour from fishing boats will not be accepted and warned that aggressive acts by these non-naval ships will be responded too in the same way it does with the People's Liberation Army Navy.
Crew members questioned
Two Chinese trawlers were taken to seaport town Dhabol in Ratnagiri district of Maharashtra by the Coast Guard
The trawlers were checked and some 200 of the crew members were questioned. Nothing incriminating was found on the trawlers
Top Stories