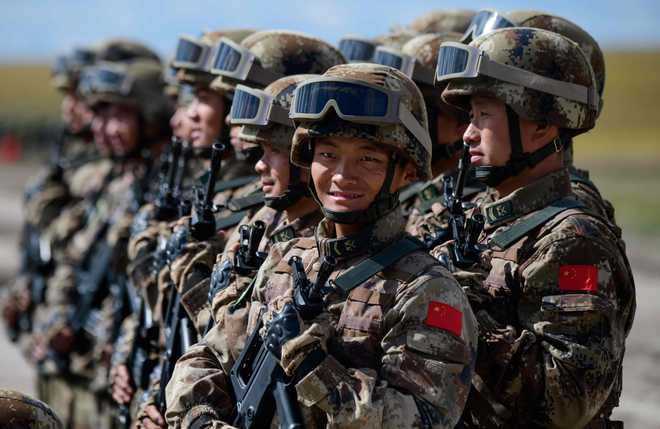 Ajay Banerjee
Tribune News Service
New Delhi, September 13
A Parliamentary committee has termed last year's 73-day Doklam military standoff a "blatant" attempt by China to change the boundary to "dominate" India's Siliguri corridor. It has raised questions over Chinese infrastructure being "uncomfortably" close to India-Bhutan-China tri-junction.
Since Parliament is not in session, the committee headed by Shashi Tharoor had presented a report "Sino-India relations, including Doklam, border situation..." to Speaker Sumitra Mahajan. The committee requested 'Direction 71A of the Directions by the Speaker' with the request to permit the printing, publication and circulation of the report under Rule 280 of the Rules of Procedure and Conduct of Business in Lok Sabha. The report was made public on Wednesday night, ending weeks of speculation that the report was being stalled due to its sensitive nature.
About the standoff (June 16-August 28, 2017), the committee said China intrusion at Doklam was uncalled for and was a blatant but unsuccessful attempt to unilaterally change the status quo by shifting the India, Bhutan, China tri-junction from Batang La to Gyomochen.
It could have seriously affected India's security interests and enhanced China's ability to dominate the vulnerable Siliguri corridor, the report said and it cited the Foreign Secretary saying: "Chinese troops came with road building equipment with a stated intention of building a road to the Jampheri ridge (overlooking the Siliguri corridor). This was detrimental to India's security interests."
The committee said it remains concerned the "Chinese infrastructure built uncomfortably close to the tri-junction has not yet been dismantled". The report of the committee says the government has categorically denied any Chinese activities near the actual faceoff site, an ambivalent view has been expressed while confirming such activities for other areas in the Doklam plateau. "Reports suggesting that significant road-building (by China) towards the Indian border has already occurred are also of concern to the committee".
The government has categorically denied that there is any direct threat from Chinese troops currently, however, the committee has suggested it is always better to have a sense of "healthy scepticism" when dealing with China.
"Even if they have withdrawn their troops from Doklam for the time being, China's strategic intentions should not be taken casually," the committee said.
'Blatant attempt to change boundary'
China intrusion at Doklam was uncalled for and was a blatant but unsuccessful attempt to unilaterally change the status quo by shifting the India, Bhutan, China tri-junction from Batang La to Gyomochen Parliamentary committee headed by Shashi Tharoor