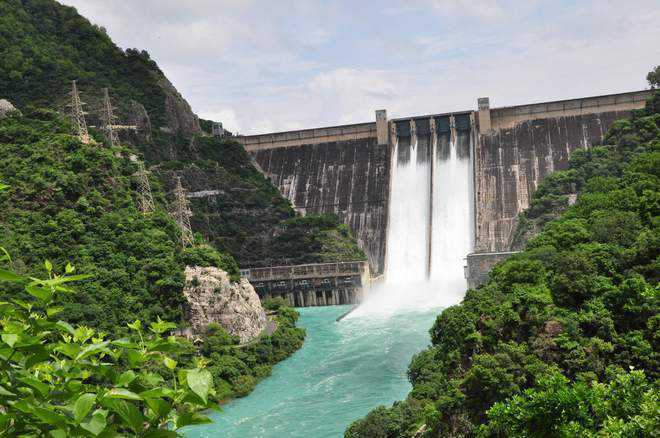 Vijay Mohan
Tribune News Service
Chandigarh, June 2
Though the monsoon this year seems to be faltering, with its onset delayed by several days and forecasts of a below-normal precipitation, higher-than-normal water levels in the dams in the region may offset the deficiency of rainfall.
The pre-monsoon rainfall in Himachal Pradesh has been significantly deficient, but water levels in the three major dams in the region are 66-91 per cent above normal. Such high pre-monsoon levels at the fag end of the reservoirs' depletion period, officials say, have rarely been experienced.
The flip side is that the dam authorities are reworking the daily release of water, letting go more than the demand from states to cater for inflows that would increase during the monsoon. There is also a chance of freak weather conditions, such as a cloudburst, that may result in a flood situation, bringing in more water than normal.
At present, the Bhakra reservoir is filled up to 45 per cent of capacity, which is nearly double than normal and more than seven times the quantum of water available at this time last year. Last year, due to historic low inflows because of climatic vagaries, the storage had plummeted to just 6 per cent of the total capacity. While the situation had turned critical in the summer of 2018, unprecedented rainfall in the upper regions of Himachal during autumn resulted in reservoirs filling up to the brim. A flood situation had emerged downstream, causing heavy damage.
The available storage in the reservoir at Pong on the Beas, which had fallen to only 9 per cent last year, is 39 per cent at present. The situation at Thein Dam that lies on the Ravi is also comfortable. The reservoir is filled up to 66 per of its capacity as compared to just 25 per cent last year.
The three dams have a combined installed power-generation capacity of 2,160 MW and potential to irrigate over 25 lakh acres in the region.
That said, water storage in reservoirs of most states in west and south India has dipped to less than the average of last 10 years, indicating a worsening water crisis.
---
Meanwhile, 42% of India is abnormally dry
About 42 per cent of India is "abnormally dry", which is around 6 per cent more than last year's figure, according to the Drought Early Warning System (DEWS)
In the May 28 update of the real-time drought watcher, the percentage of "abnormally dry" area increased to 42.61 per cent from a week before (May 21) when it was 42.18 per cent
The area under "exceptionally dry" category went up from 0.68 per cent last year to 5.66 per cent this year
Worst affected areas are in Telangana, Andhra Pradesh, Karnataka, Maharashtra, Gujarat and Rajasthan