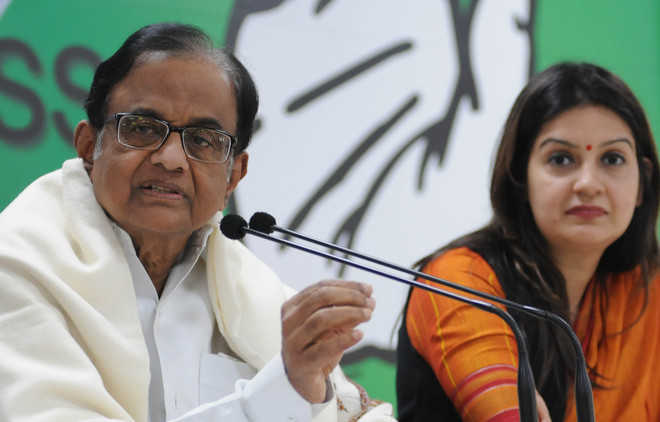 Tribune News Service
New Delhi, January 18
The Congress today cited new facts to reiterate its demand for a joint parliamentary committee probe into the Rafale jet purchase, saying the government was wrong if it thought the issue had been given a quiet burial.
The controversy is very much alive and has acquired a new dimension, the party said days after Defence Minister Nirmala Sitharaman rejected the JPC demand in the Lok Sabha. Sitharaman said the issue must rest after the Supreme Court dismissed all anti-Rafale purchase petitions having "satisfied its conscience" on the process, pricing and procedure involved in the inter-government Rafale agreement between India and France.
Addressing reporters today, Congress veteran P Chidambaram said a JPC was needed to probe the issue in the light of new facts as "Dassault was laughing all the way to the bank". We have always said the court cannot probe this issue, Chidambaram said accusing the Government of wronging the nation on two counts.
"Firstly, the government compromised national security by denying the Indian Air Force 90 fighter aircraft that they desperately need. Secondly, it has purchased two squadrons that will cost about Euro 25 million more per aircraft. At the 2016 exchange rate this enhanced cost is equal to Rs 186 crore! India will pay Rs 186 crore more per aircraft," Chidambaram said referring to a media report claiming Prime Minister Narendra Modi bought the jets at a much higher price than what was negotiated by the Congress-led UPA.