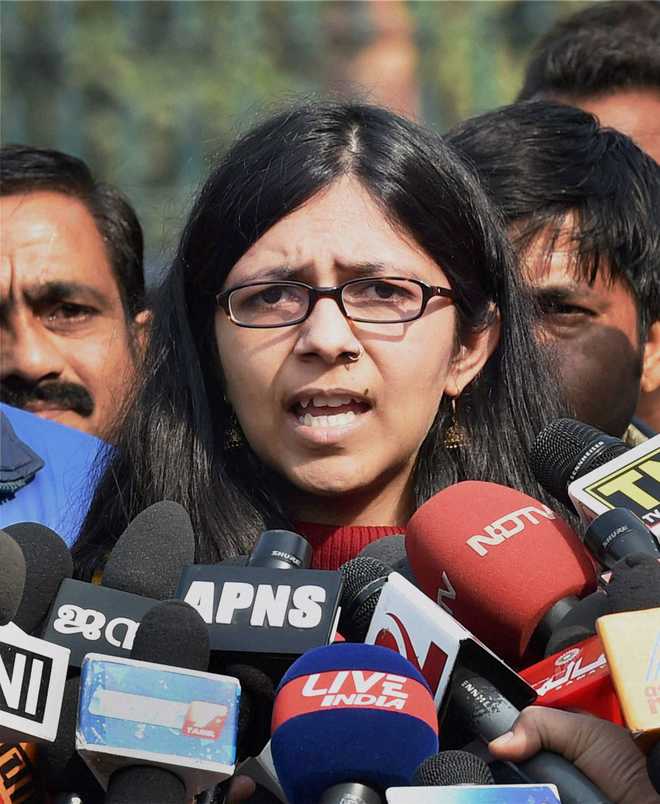 New Delhi, July 26
The Delhi Police on Tuesday registered a case against Delhi Commission for Women (DCW) chief Swati Maliwal for allegedly revealing the identity of a 14-year-old Dalit rape victim.
The victim, who was brutally raped in north Delhi's Burari, died on Sunday after being forced to drink a corrosive substance by her alleged abusers.
(Follow The Tribune on Facebook; and Twitter @thetribunechd)
"We have filed a case against DCW chief Swati Maliwal for naming the Dalit rape victim," Additional Deputy Commissioner of Police Aslam Khan said.
The officer said Maliwal has been booked under Section 228 A (disclosure of identity of victim of certain offences), of the Indian Penal Code (IPC).
The Dalit girl was kidnapped by the accused before she was to testify against him in a local court for allegedly raping her. She was again repeatedly raped by the accused, and forced to drink a corrosive substance by his maternal aunt and uncle.
The substance damaged the girl's internal organs and she was admitted to a hospital.
Maliwal had visited the girl on Friday night and subsequently issued notice to Burari police station chief Satbir Singh, seeking the reason for "not arresting the accused till date".
In the notice, Maliwal named the victim. The copy of the notice was also sent to Deputy Commissioner of Police Madhur Verma citing the statement of the victim and her father before the DCW.
The DCW chief sought at least eight queries from Delhi Police and gave the force 72 hours to reply to the notice.
The DCW is also conducting an enquiry into the "role of police, government hospital and Nari Niketan in the case".
A case under charges of kidnapping, rape and Protection of Children from Sexual Offences (POCSO) Act was registered at Burari Police station against the accused Shiv Shankar on December 24, 2015.
The victim's parents informed DCW on May 15 this year that the girl was again kidnapped from her house just before a hearing in the court.
The Burari police then registered another case on May 19. This time the girl was brutally raped, tortured and forced to drink a corrosive substance. — IANS