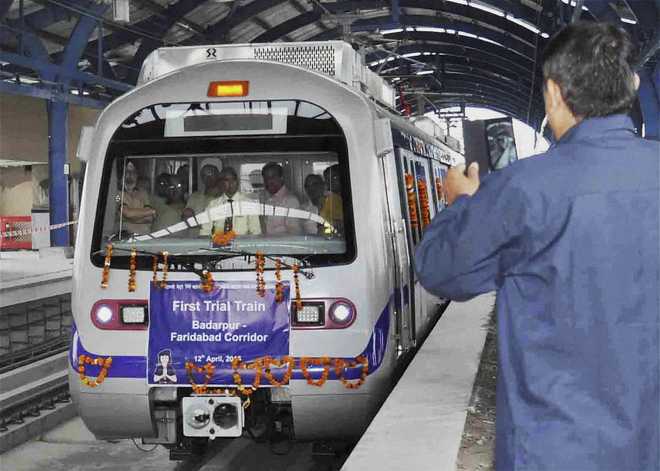 New Delhi, April 12
Delhi Metro on Sunday began its trial runs on the fully elevated 14 km-long Badarpur-Faridabad corridor, setting in motion the process of formally opening the line by June.
Delhi Metro Railway Corporation had made its foray into Haryana five years ago and with this project, the DMRC will further spread its operations in the neighbouring state.
DMRC MD Mangu Singh was also present during the flagging off of the first trial run.
"The first trial train on this section today (Sunday) travelled from the Badarpur station to Old Faridabad Metro station," a statement said.
A metro spokesman said the interaction of the trains with civil structure would be checked during trial runs to ensure that there is no physical blockage during its movement on the tracks.
"The entire signalling system will also undergo rigorous testing. In addition, train response at different speeds, braking and inter-connection with the Operations Control Centre (OCC) are monitored during the trials," the spokesman said.
The corridor is an extension of the existing Mandi House -Badarpur line (Line 6) of the network. According to official estimates, around 1.92 lakh passengers travel by the line, which is Line 6, on an average every day.
Once fully operational, the line will span from Kashmere Gate to Escorts Mujesar having a length of 43.4 km, with a total of 32 stations, including five interchange stations, namely Kashmere Gate, Mandi House, Central Secretariat, Lajpat Nagar and Kalkaji Mandir.
Apart from the Mujesar terminal station, the upcoming stations are Sarai, NHPC Chowk, Mewala Maharajpur, Sector 28, Badkal Mor, Old Faridabad, Neelam Chowk Ajronda and Bata Chowk.
The depot for the section, which has been named Arjonda Depot, has been constructed near Sector 20 A in the city.
Officials said two more stations, NCB Colony and Ballabgarh, would be added in the line by 2017, thus increasing the length of the line by another 3.2 km.
After trial runs, DMRC will have to get the mandatory Commissioner for Metro Rail Safety (CMRS) clearance, after inspecting the line for all safety parameters for passengers. — PTI